The "Lumiere" Hustle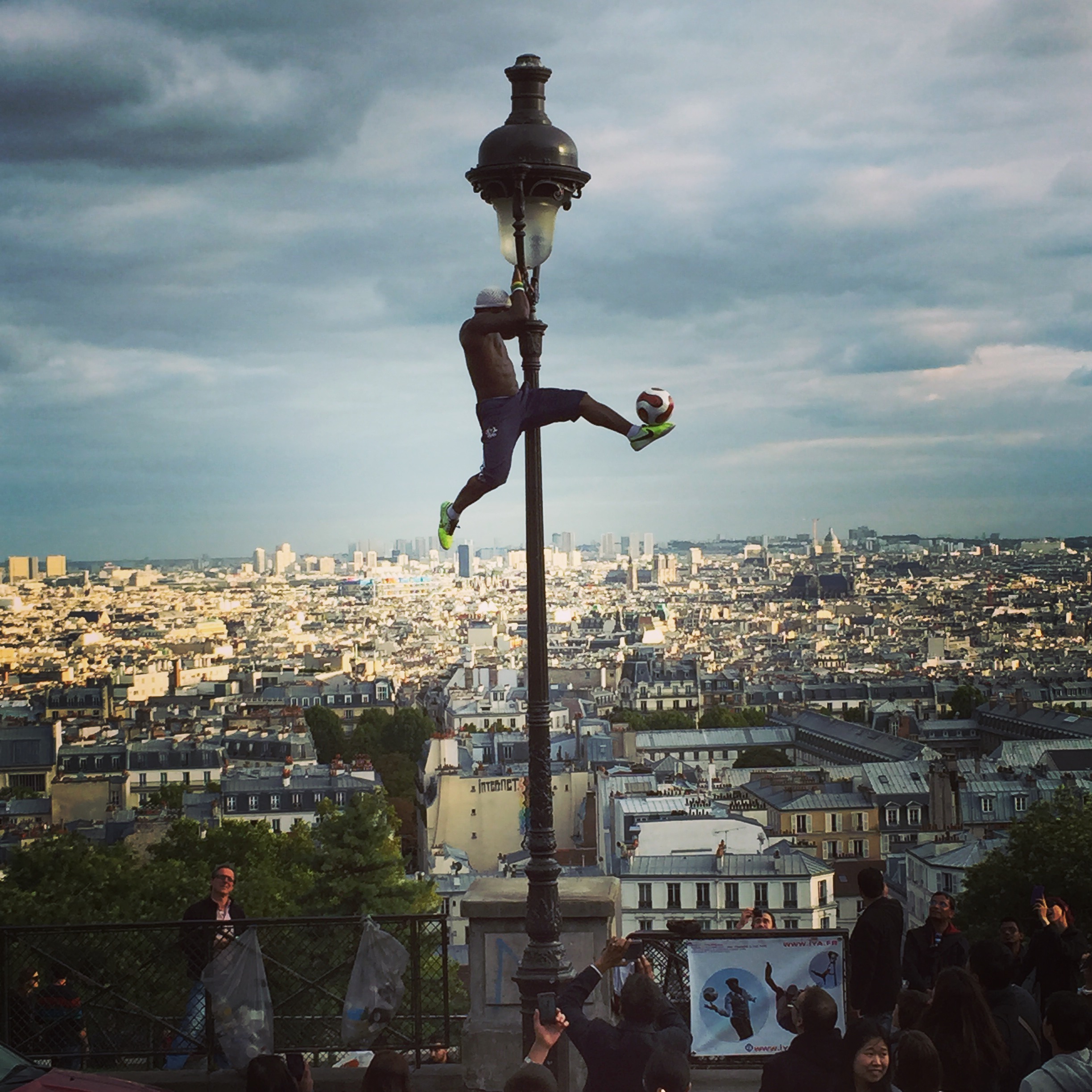 I have two friends in Paris, not that I'm counting on one hand or anything. And no, the street performer in the picture is not my second friend, but he is a friend of my new friend, and therefore, a friend of a friend. Although, typically friends don't pay each other to do things, so I probably should have asked for that 0.50€ back after his performance on the light pole, but we weren't technically friends of friends at that point, so I let it slide.
No, my new friend is quite the Parisian. I met him while heading down the stairs from Sacré-Coeur this evening. I had just finished a loud shuffle with hundreds of other tourists through a live church service at the church where I stopped to say a prayer of thanks for this incredible journey, when a man asks if I mind taking his photo. It wasn't a particularly picturesque backdrop. In fact, it was filled with unruly, dying bushes fringing about 20 cement steps. Had we walked down five steps, he would have had the magnificent Sacré-Coeur behind him. Had we turned 180 degrees, all of Paris would be at his backside. However, he was content with 20 cement steps to nowhere. And then I realized it – the picture wasn't meant to be upstaged by a beautiful background. The picture was about the fashion, and he was wearing it to the nines. Decked out in a white fedora with a black ribbon, simple button down with a black, wrap-around cardigan embellished with large buttons, carefully torn jeans rolled once, and suede saddle shoes in two soft shades of tan, my new friend was très chic.
The picture chat turned into a bench chat, which turned into a walking chat. All along, my friend chain smoked his Marlboro Reds while I inhaled the secondhand smoke like an American. Upon deciding to take our adventure to La Tour Eiffel, I asked my friend to take one photo of me in front of the church. Cigarette in the same hand as the camera, I thought as he took it, "My God, you won't be able to see a thing in this photo! There's a cloud of smoke from his cigarette in front of the lens!" And turns out that while there is little smoke apparent in this picture, there is also little of the church in this picture. It is, however, a fabulous photo of me tilted approximately 16 degrees to the left and standing in between two cars with strangers in the background. Sacré-Coeur, my friends!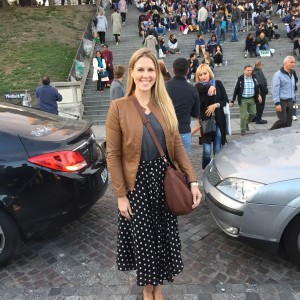 When I arrive home after dark, there is an energy conservation ordeal to handle. Upon entering my building, I have to press "lumiere" to light up the stairwell. It is then a mad dash to make it to the next floor to hit the "lumiere" button, which is unfairly close to my neighbors' doorbell on each floor, until I reach the sixth floor where I live. The "lumiere" on the sixth floor has been dug out and presumably never worked, thus, the hustle from the fifth floor into my unit is real. I must do all this while not pounding my feet like an elephant in my haste to catch the lights before it all goes pitch black. And while I promised myself I would come home at a reasonable hour before my first day of French class tomorrow, sometimes the best things in life would be missed without a little "lumiere" hustle…