Just Happy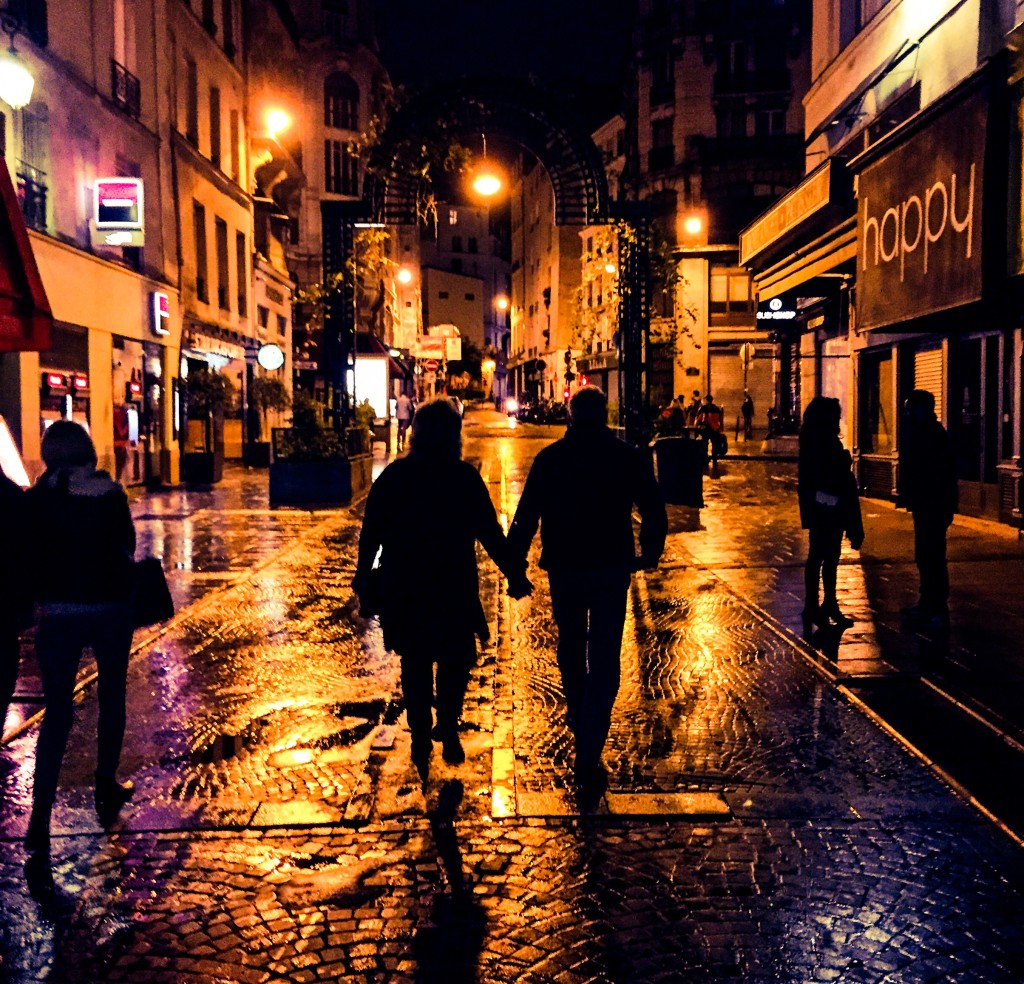 It always hits you like that, doesn't it? The people you love the most are the hardest to say goodbye to, even if only for a couple of months. And despite being bathed in the beautiful Parisian morning sunlight while standing next to the shadow of Bastille, I stood there in my jammies on the street corner, waving and watching until the taxi carrying my parents turned into a speck that eventually rounded the corner in the distance.
As I returned to the silence and pleasant disorder of my apartment, I couldn't help but sit back and reflect on the week my parents spent with me in Paris. It was a feeling of just happiness. And so without further ado, here are some of the memories floating around in my mind…
Le premier jour
Shaking off all signs of jetlag like troopers, Mom, Dad, and I ventured out on a walking tour of my neighborhood, Le Marais. This colorful man on a bike enchanted my dad to the point where he was tossing money in his can to take photo after photo of him.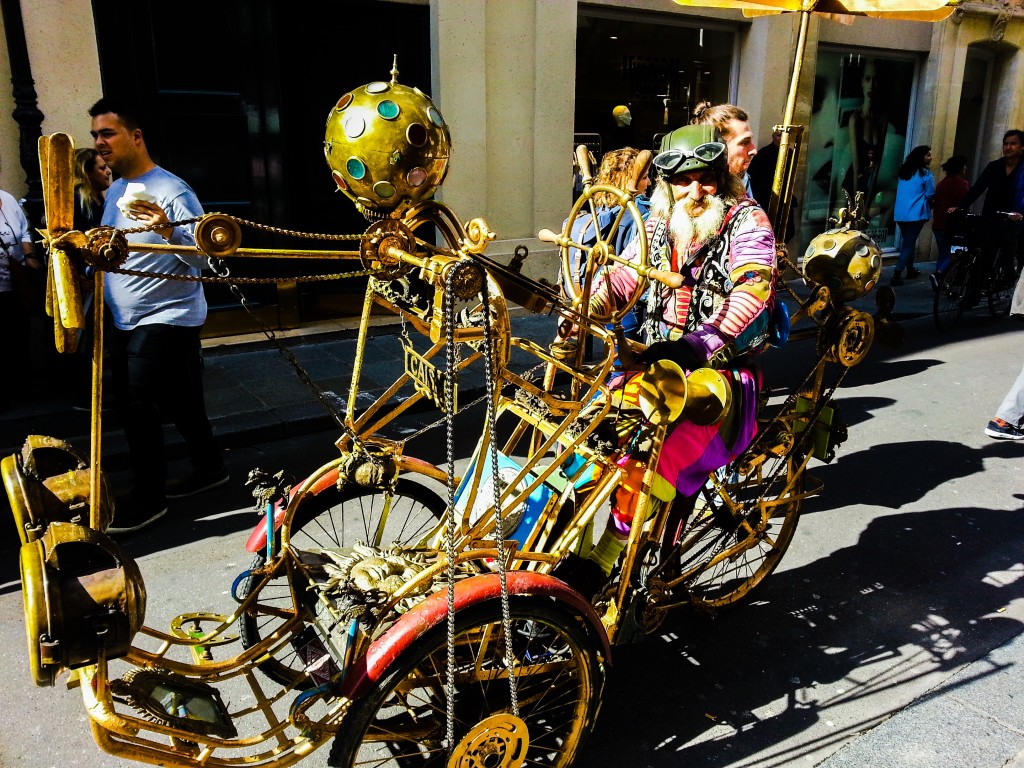 Photo credit: Dad
Our poor blue eyes struggled in the sunshine every time. Count to three, Dad, and then we'll open our eyes!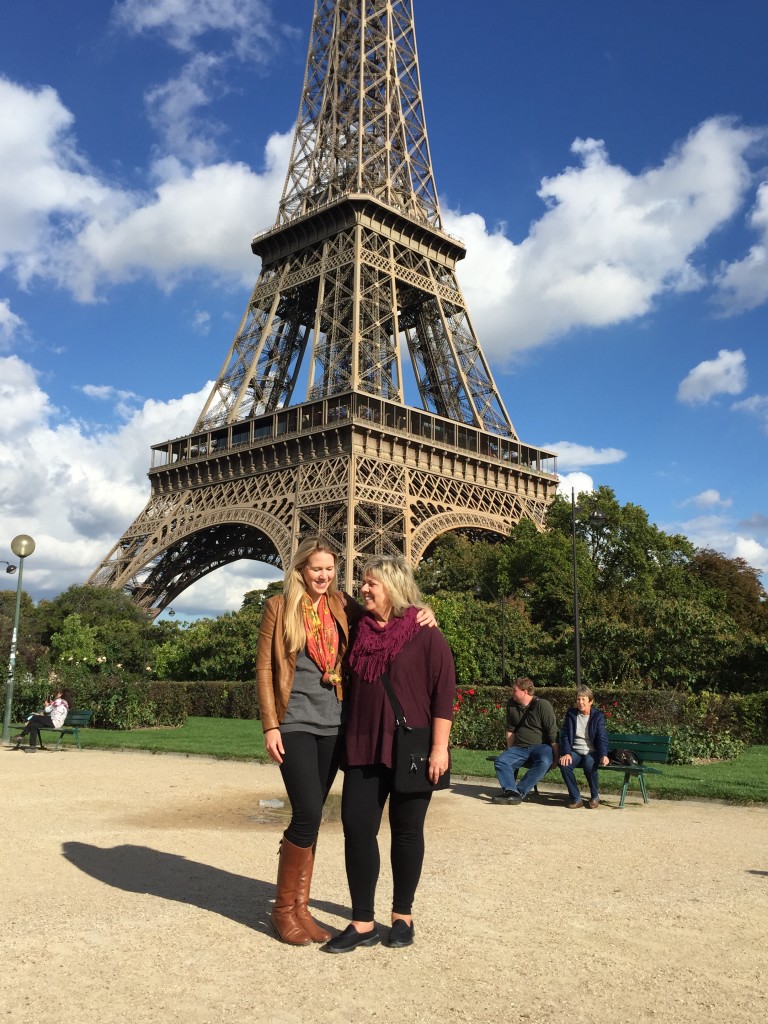 Photo credit: Dad
A Mom and Dad sandwich on their anniversary at the La tour Eiffel!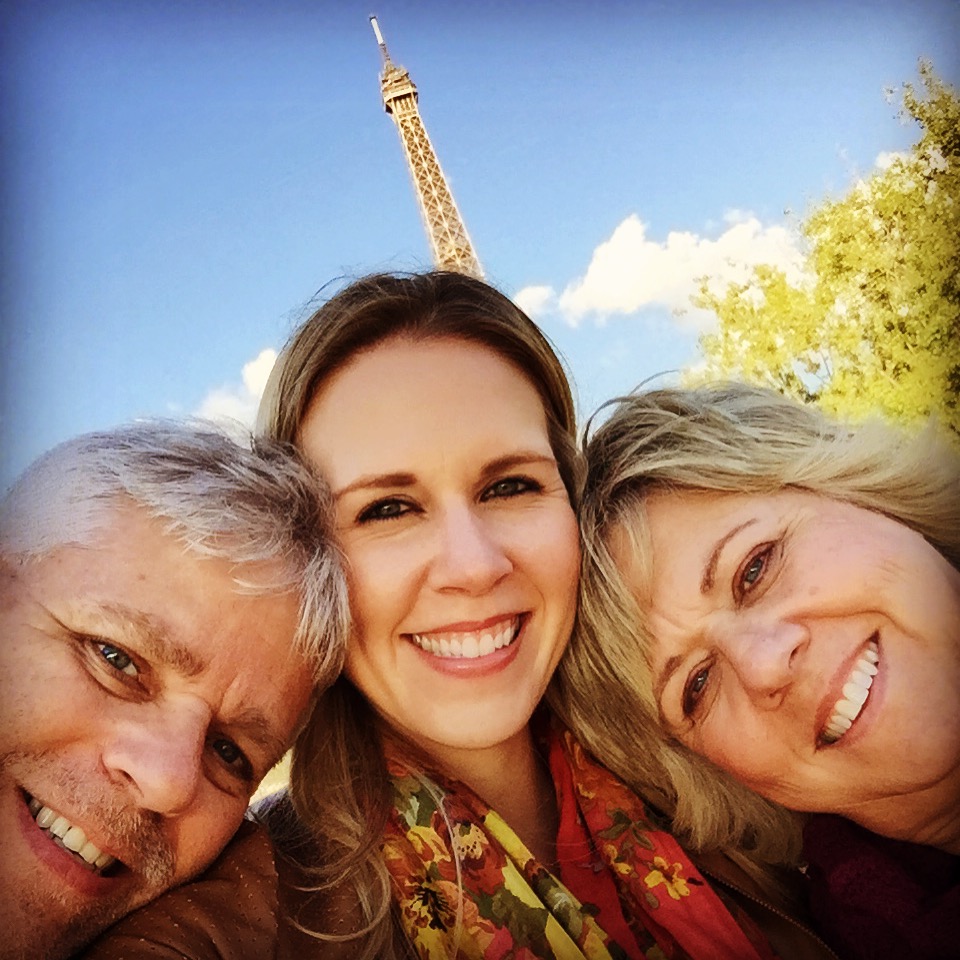 At the end of each night, Mom and Dad would retire to my left bedroom and I would settle into my cocoon on the floor. The first night, the air mattress literally left me on the hardwood floor. After some serious sleuthing the next evening, two holes were patched and diva was back to being diva!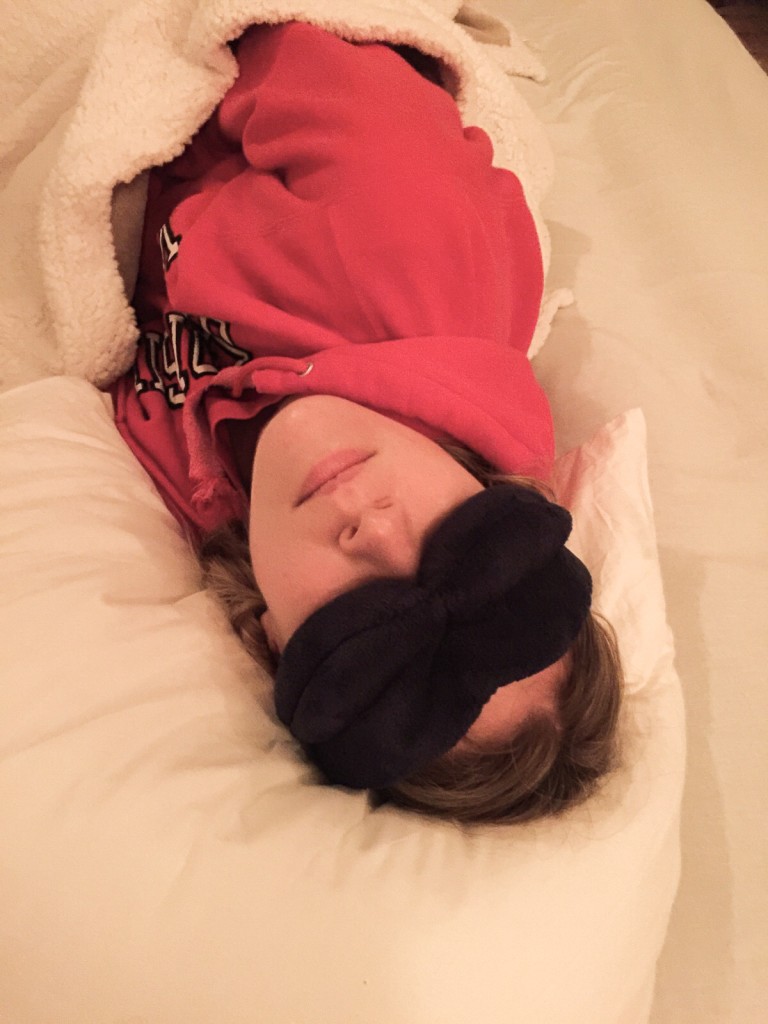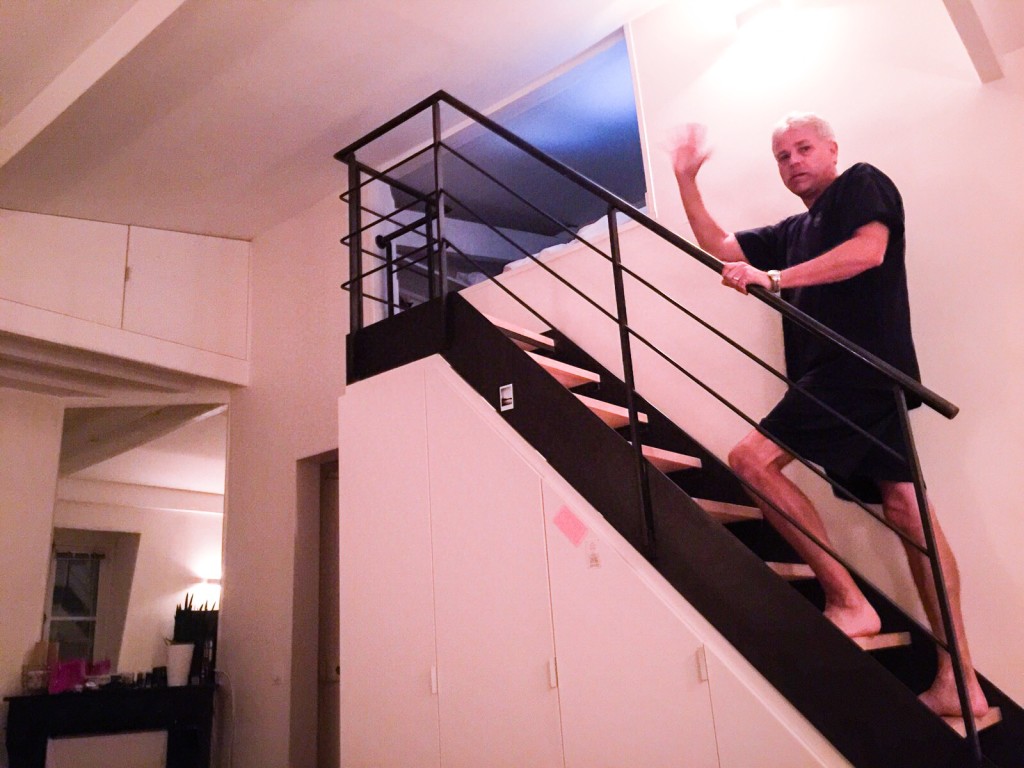 Photo credits: Mom
Le deuxième jour
Hauntingly beautiful, Cimetière du Père-Lachaise is the final resting place of Jim Morrison (lead singer of The Doors), Oscar Wilde (Irish write whose grave is covered in in a rainbow of lipstick kisses), Edith Piaf (French singer), Gertrude Stein (American writer), Frédéric Chopin (Polish composer and pianist), and Yves Montand and Simone Signoret (singer and actress; spouses) amongst many others.

A very brief stop in front of the Moulin Rouge in Montmatre neighborhood before our ascent to Sacre Cœur.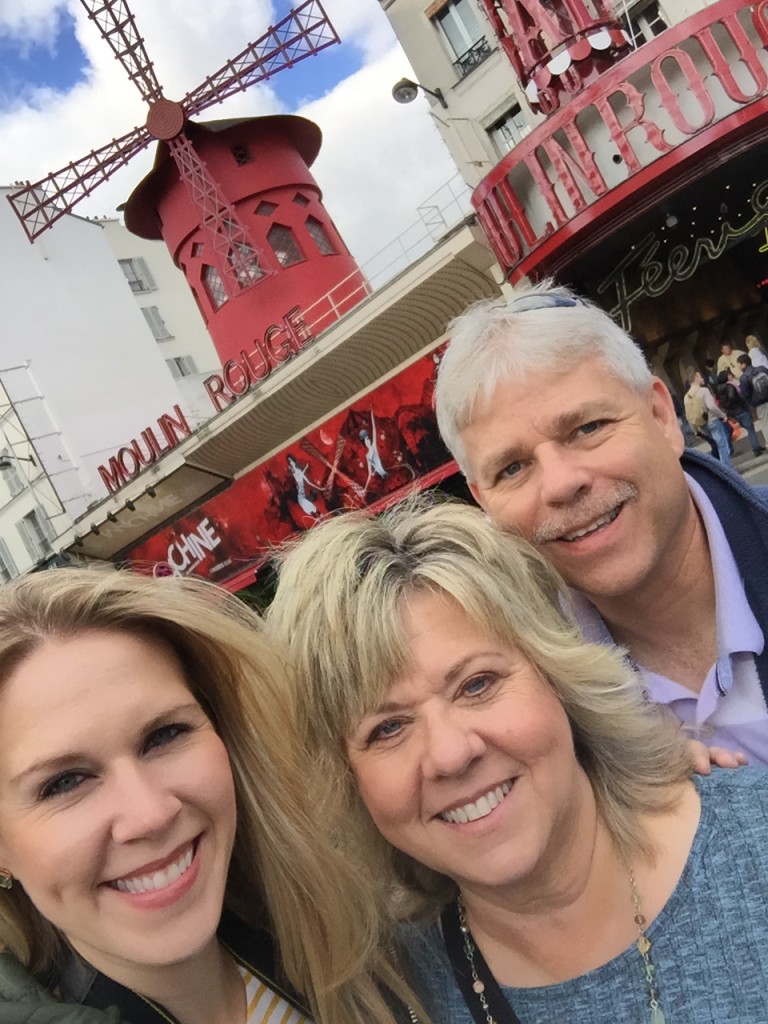 Mouth-watering sweets in the windows lining the streets leading to the church.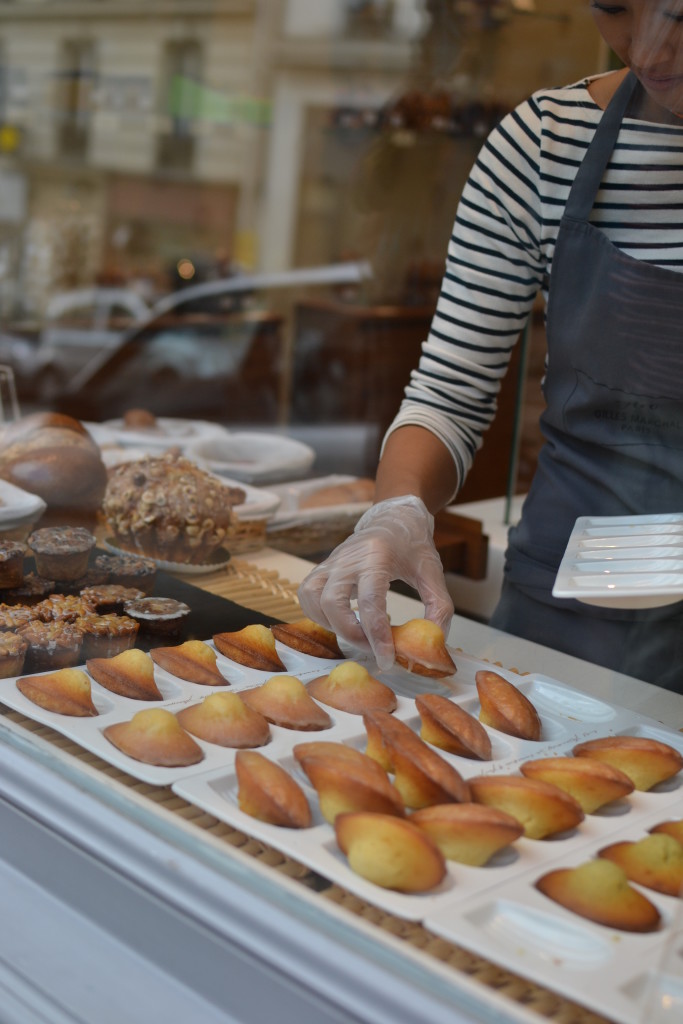 Café after café en France.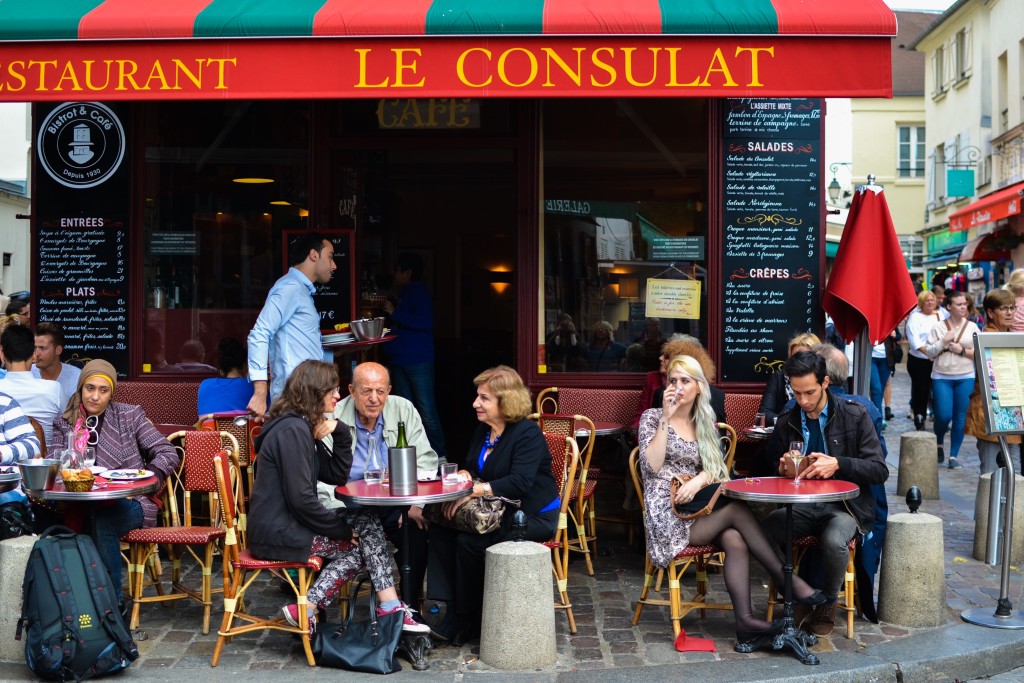 During "peaks and pits" of the trip, Sacre Cœur was a "peak!" Per Mom, the surrounding neighborhood (think Red Light District) was a "pit."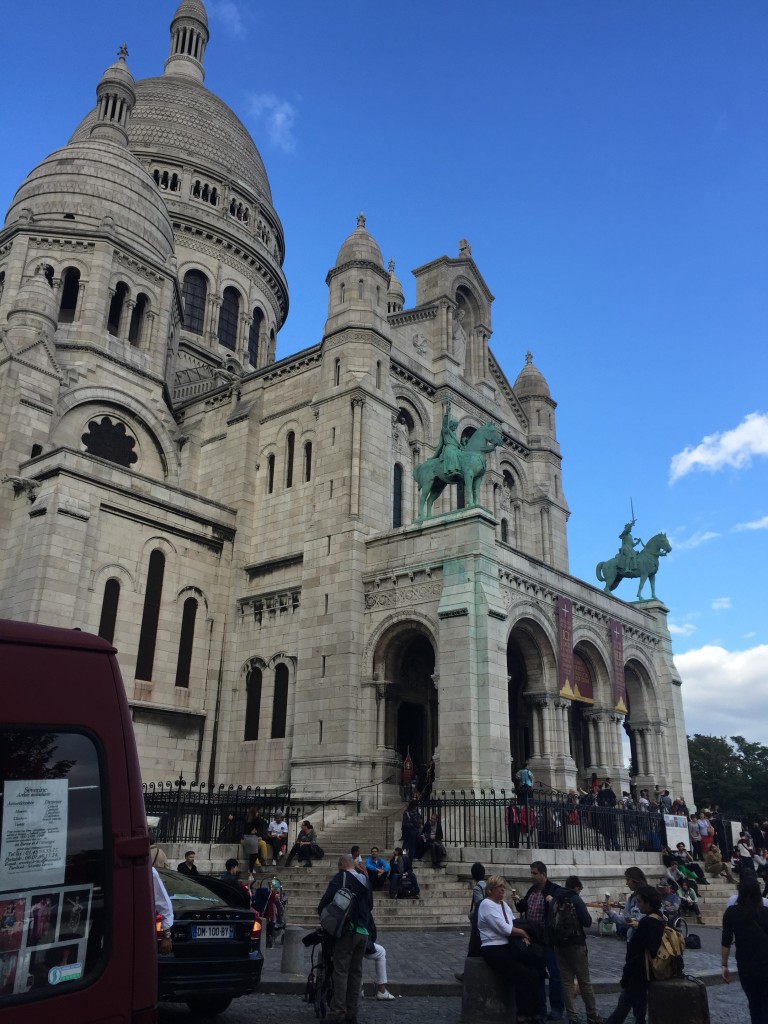 Photo credit: Mom
All of Paris at our backs.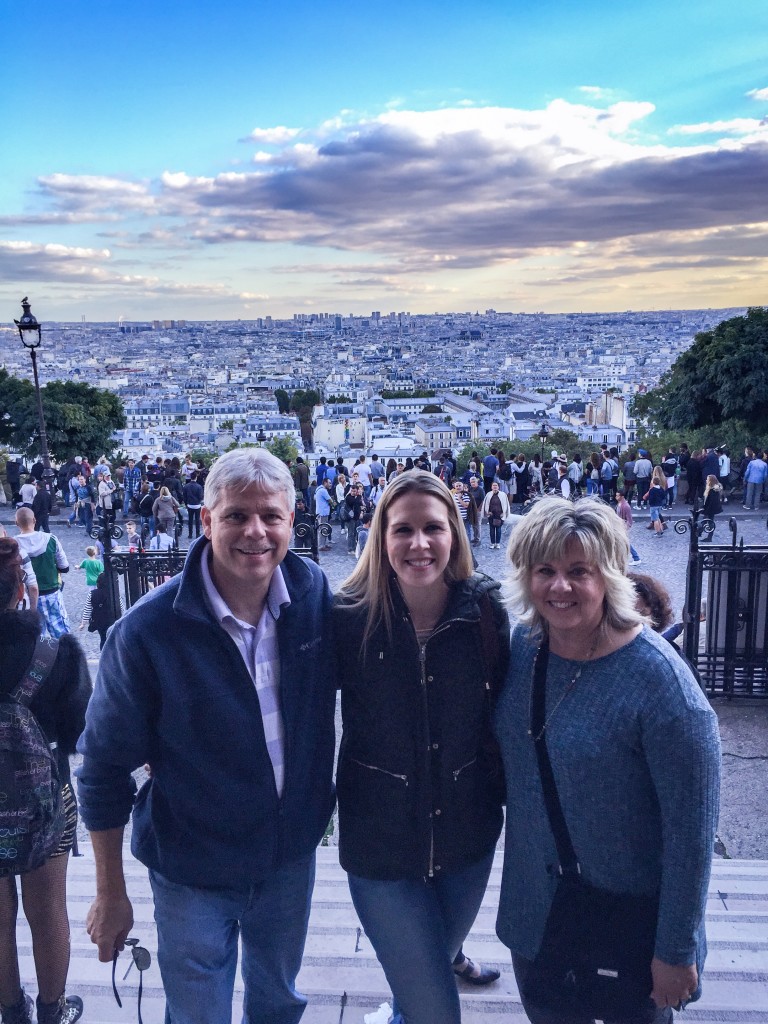 Le troisième jour
La plus belle vue de Paris from the observation deck atop Tour Montparnasse 56.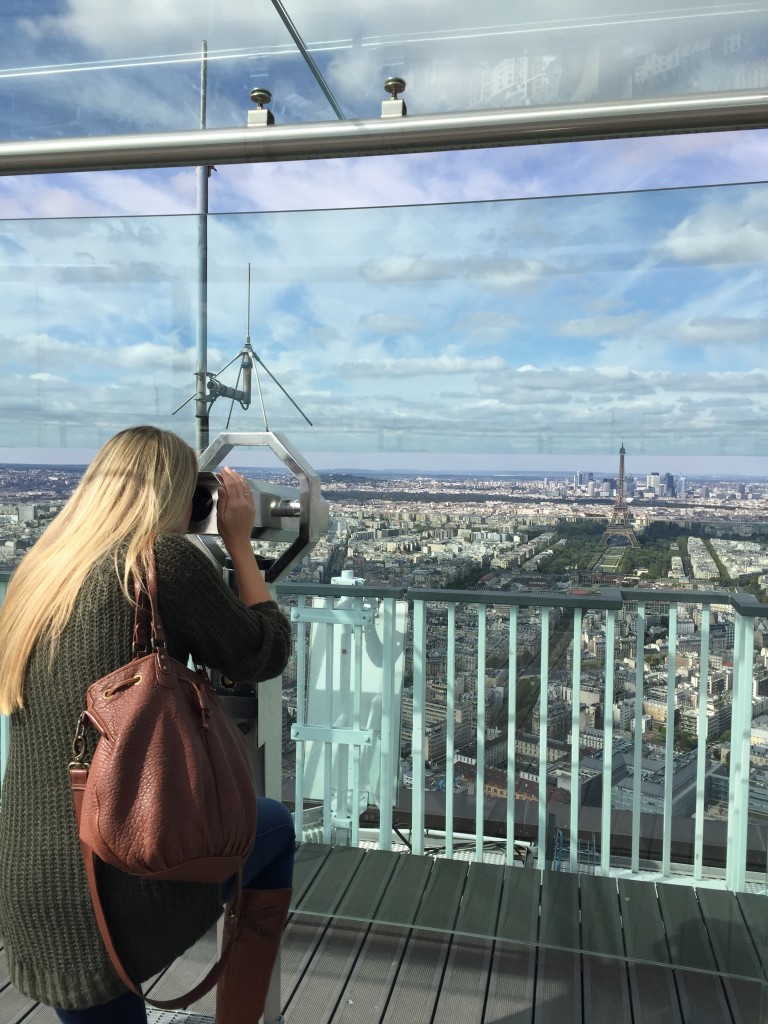 Photo credit: Mom
Mom and Dad experienced my daily walk home with a little stroll through Jardin du Luxembourg.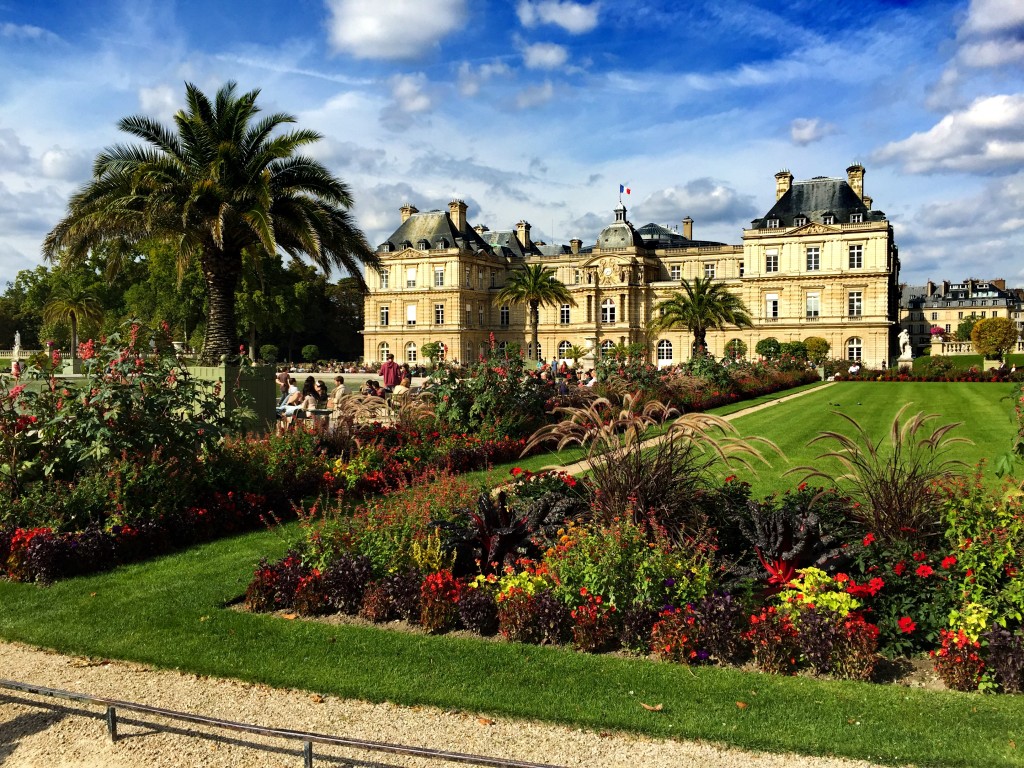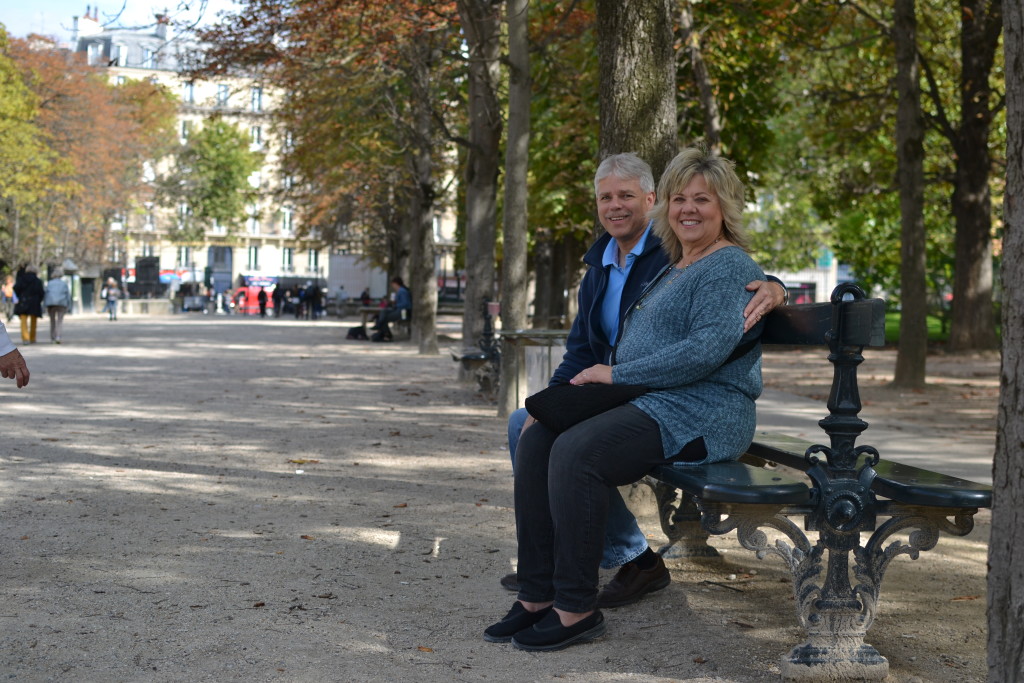 Cathédrale Notre Dame de Paris.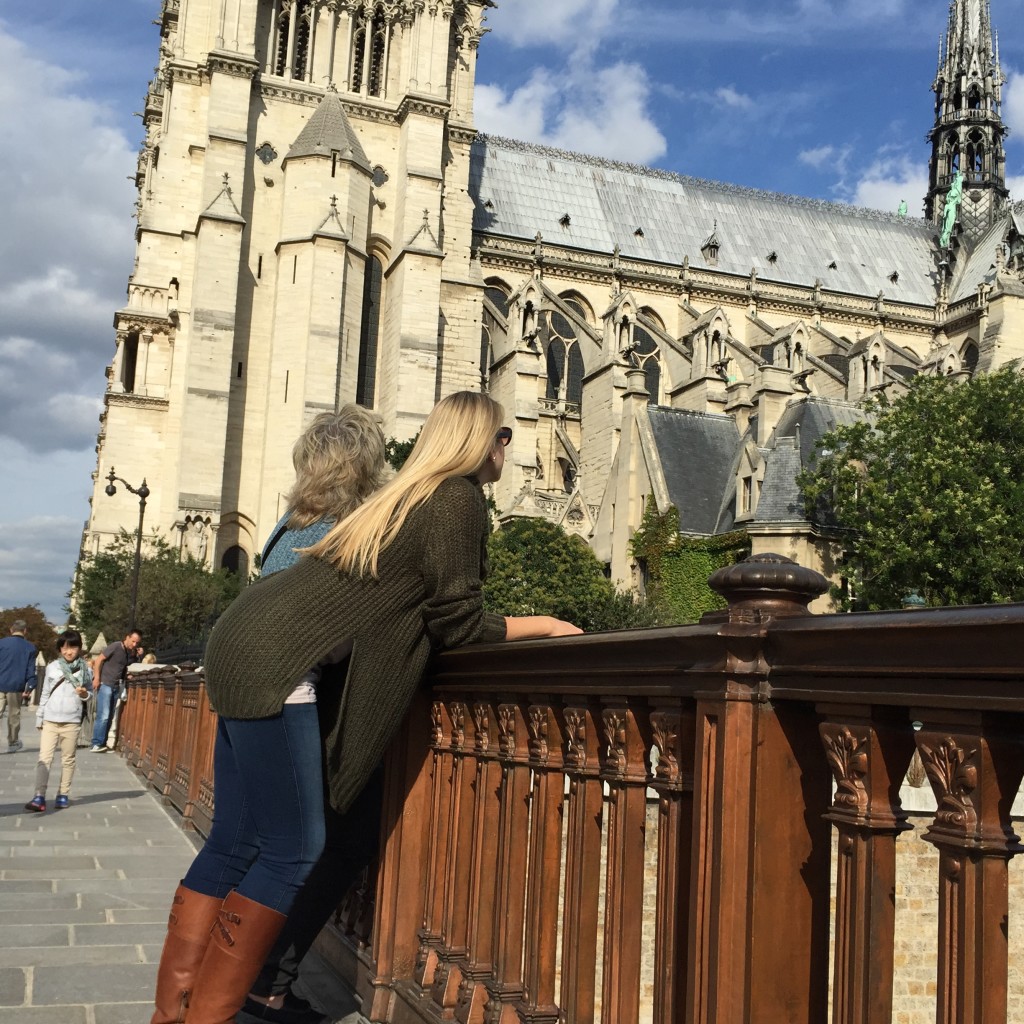 Photo credit: Dad
Point Zéro – the center of Paris.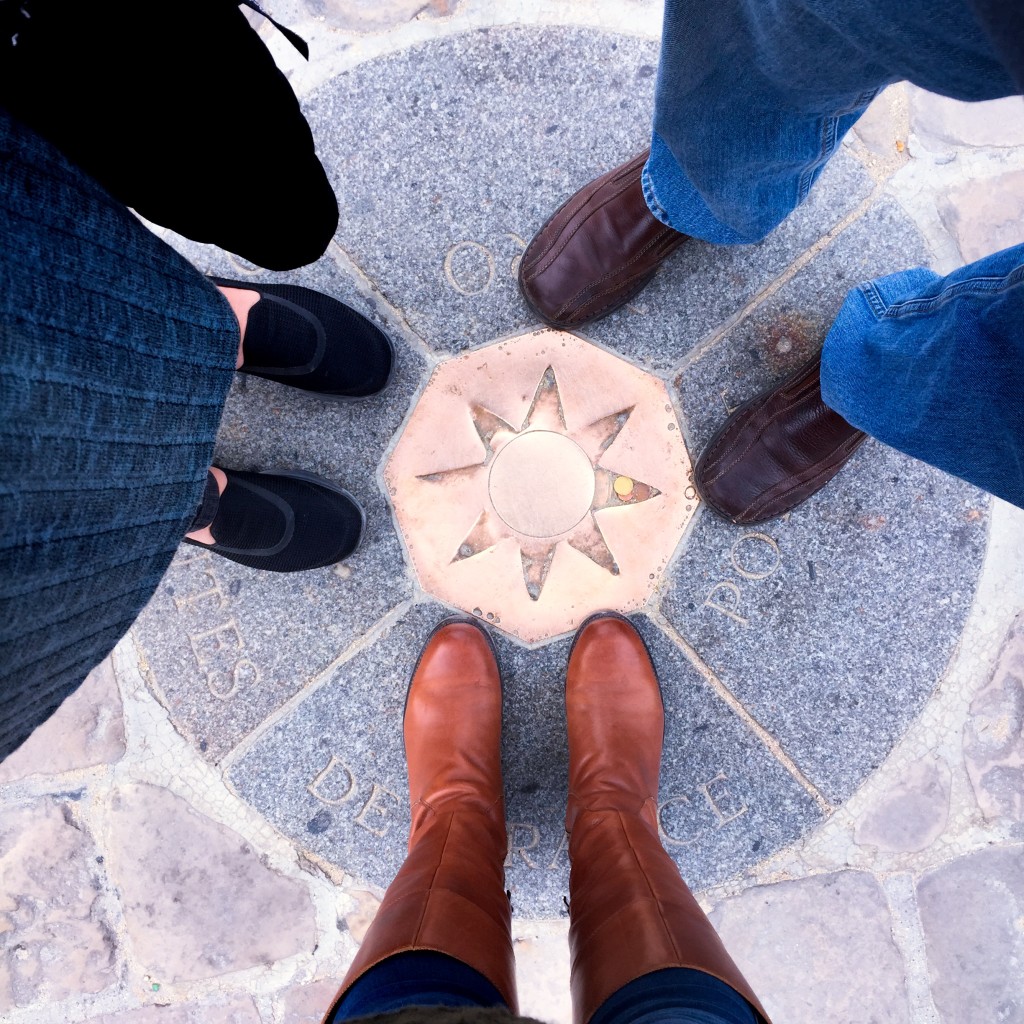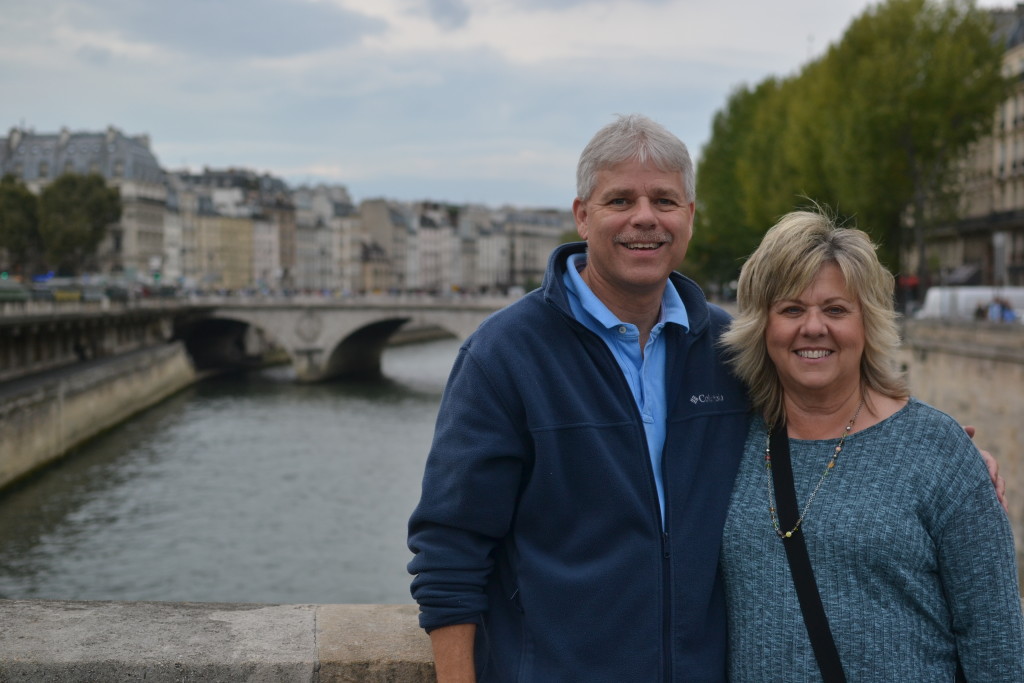 Around the corner from the Arc de Triomphe, this meal was a real winner. It was a "peak" for Mom's culinary choice and the soup soothed my voiceless voice!
Le quatrième jour
We started the morning with another garden stroll through Jardin des Plantes.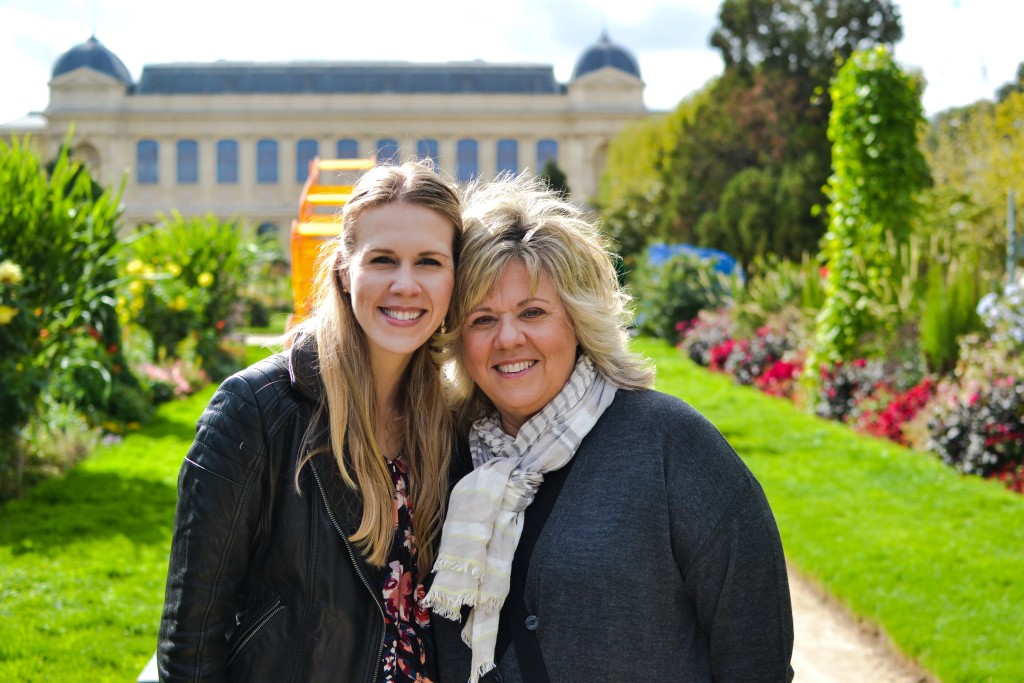 Photo credit: Dad
**A fantastic picture but it took a lot of practice…I should really be posting the 50 practice pictures where I showed him how to focus the little red dot so that we would no longer turn out blurry 🙂
These two became regular métro rats like me. The best was Dad's combination of giving us directions in French while going to the next métro stop. "Tournez à gauche! Tournez à droite!"
Photo credit: Mom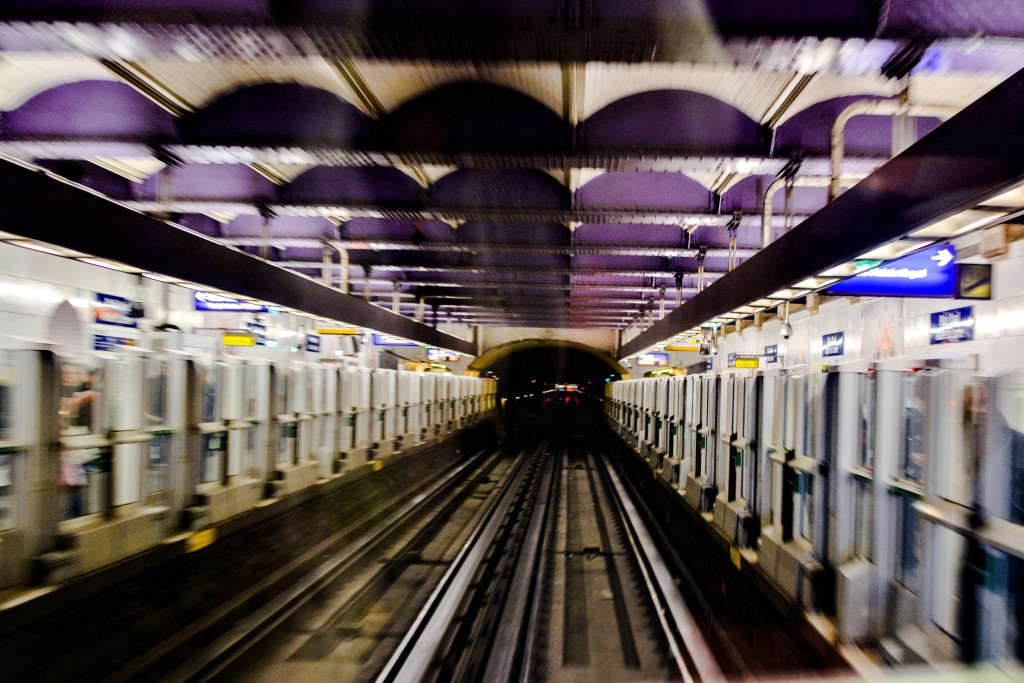 "This is my favorite picture!" she said with such enthusiasm that it became my favorite, too. And so this picture in front of Hôtel des Invalides goes on the blog, regardless of her level of seriousness.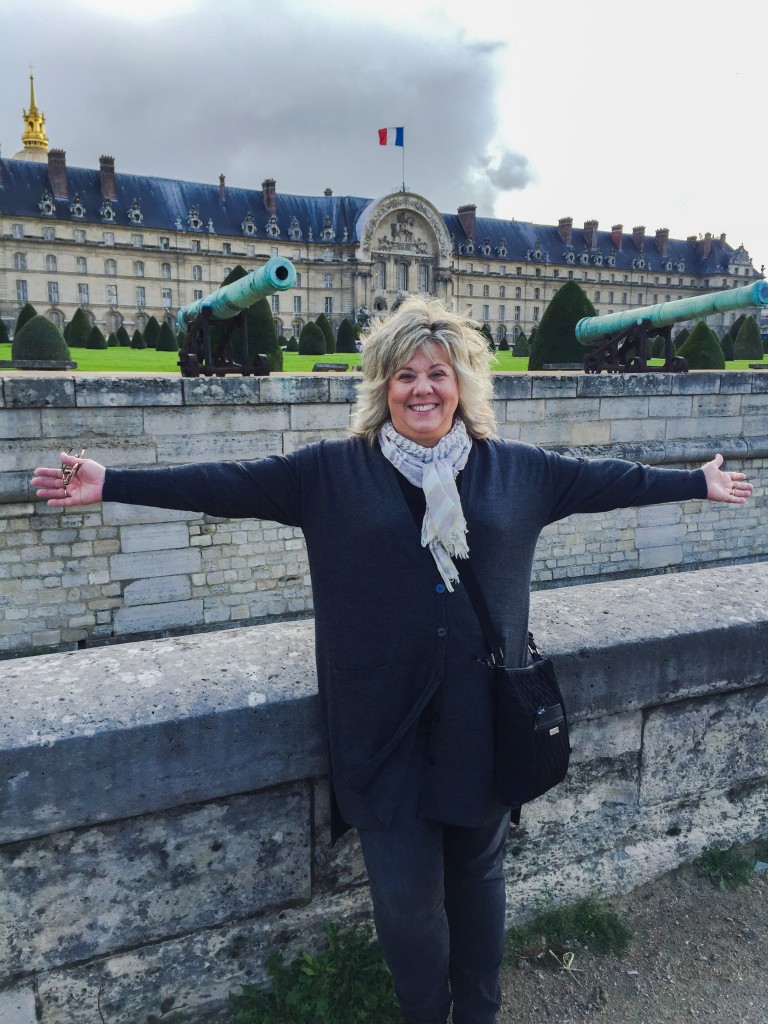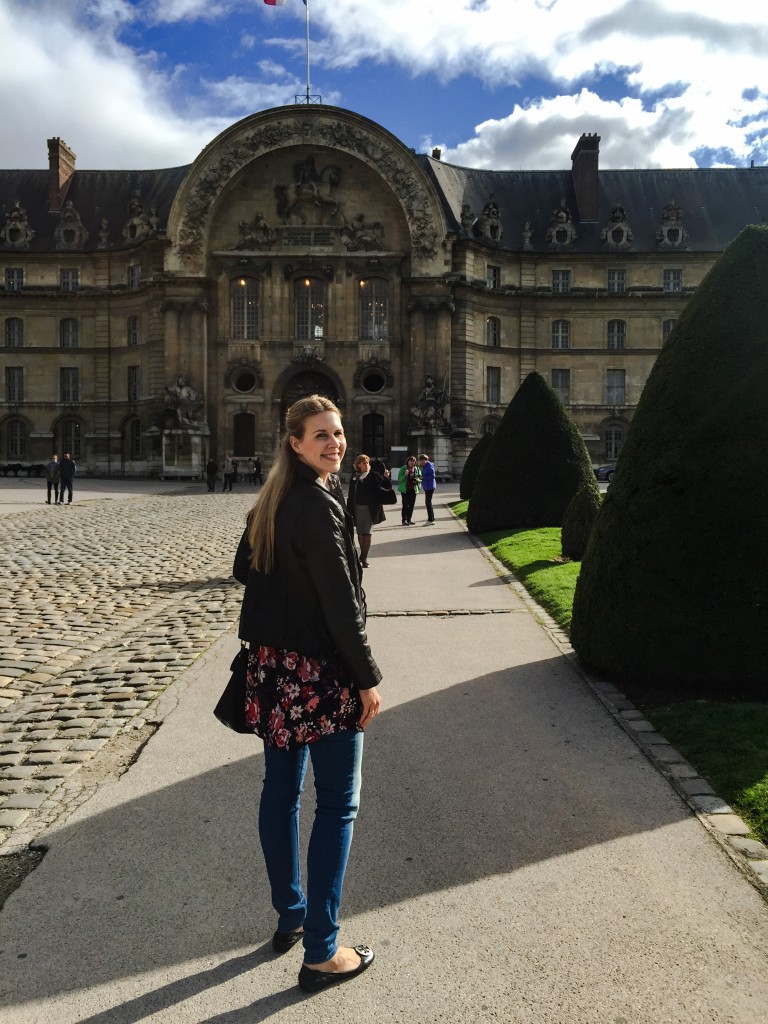 Photo credit: Mom
A knight in shining armor for Hannah because she liked horses forever ago and there is also a horse in this picture 🙂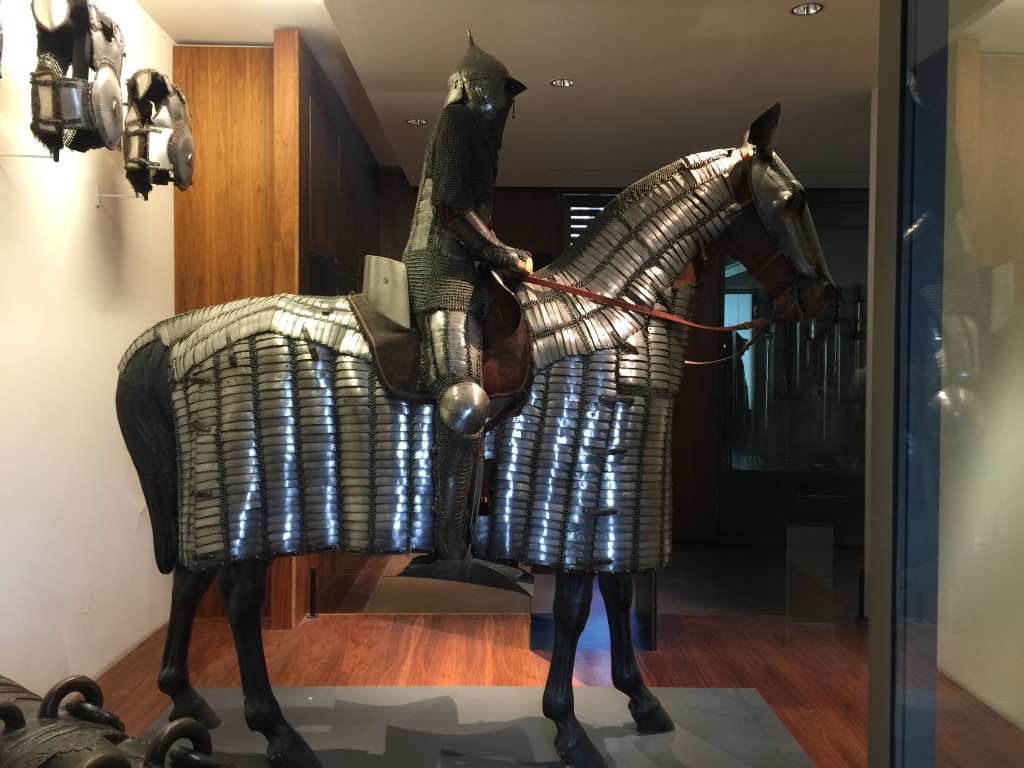 Photo credit: Mom
Le cinquième jour
Les sandwiches from my favorite boulangerie in the 5th arrondissement.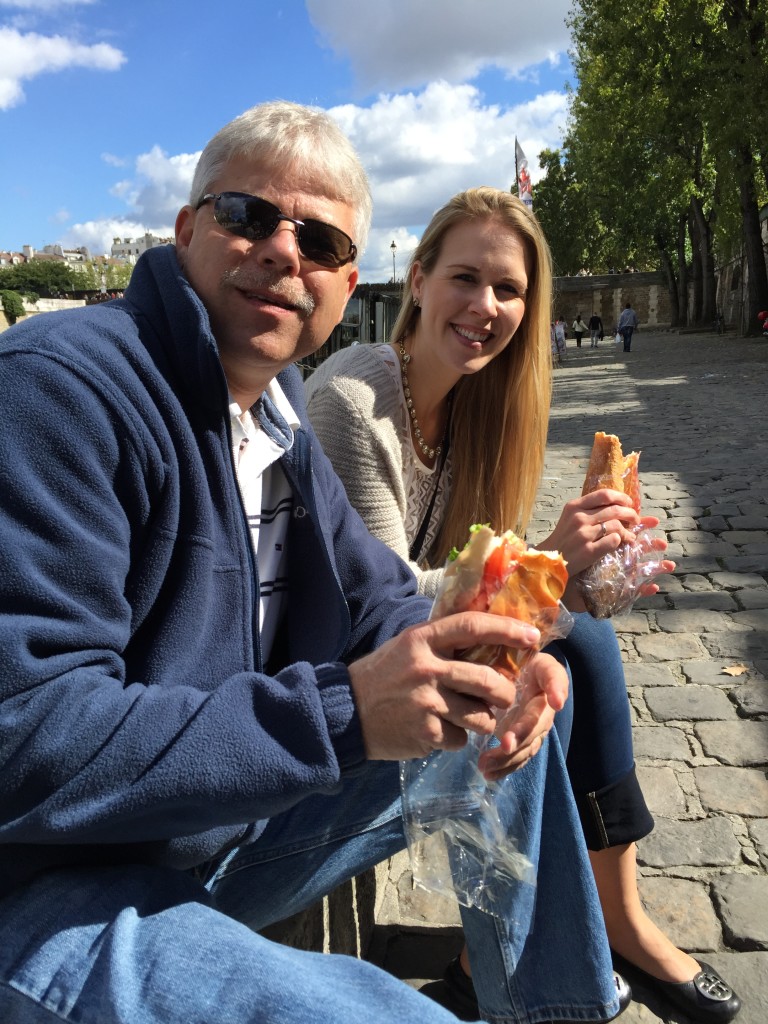 Photo credit: Mom
Laughing so hard with Mom out of frame because this photo was SOOOO much work and took about two minutes! Dad: "To the right, no, to the left. Back up, back up, back up…" basically straight into the Seine.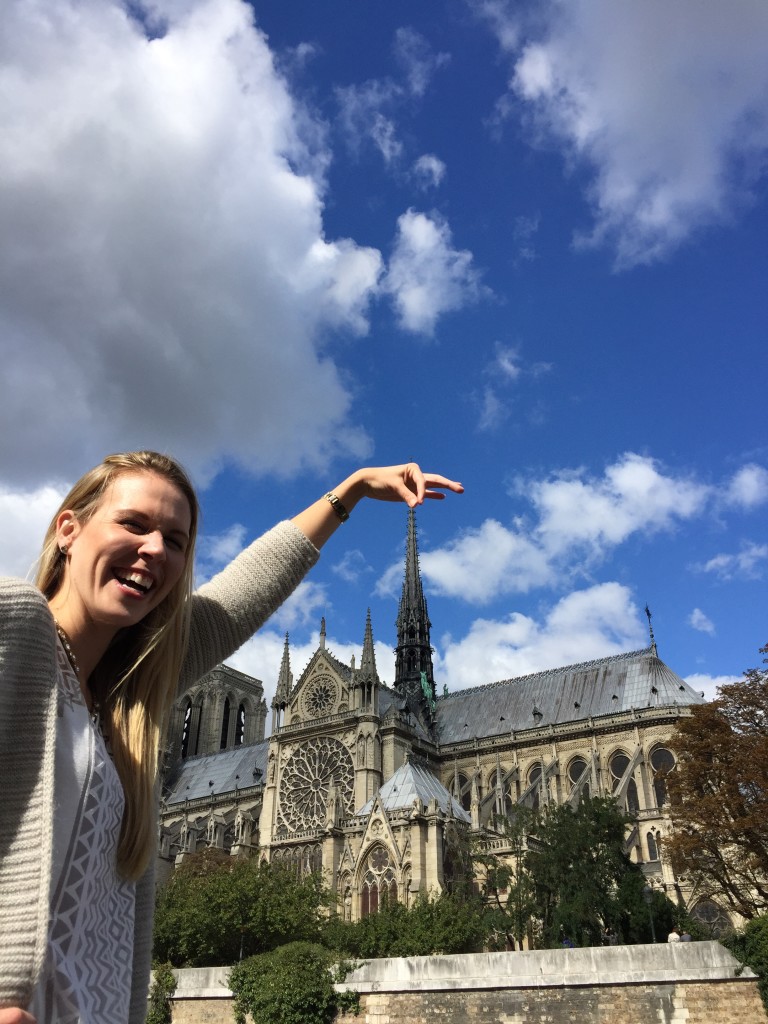 Photo credit: Dad
In truth, the photographer should do all the work in a picture like this. And when that happens, the picture is done in five seconds.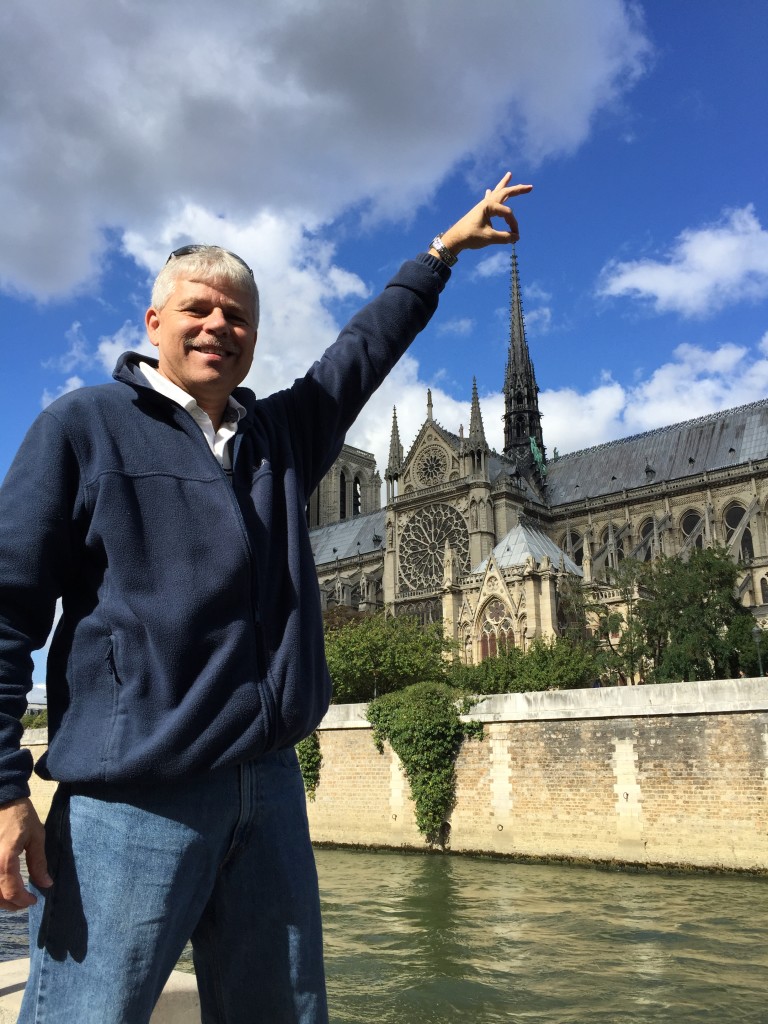 Antique cars lining the streets of Paris carry brides and grooms about the city in search of the most picturesque wedding photos.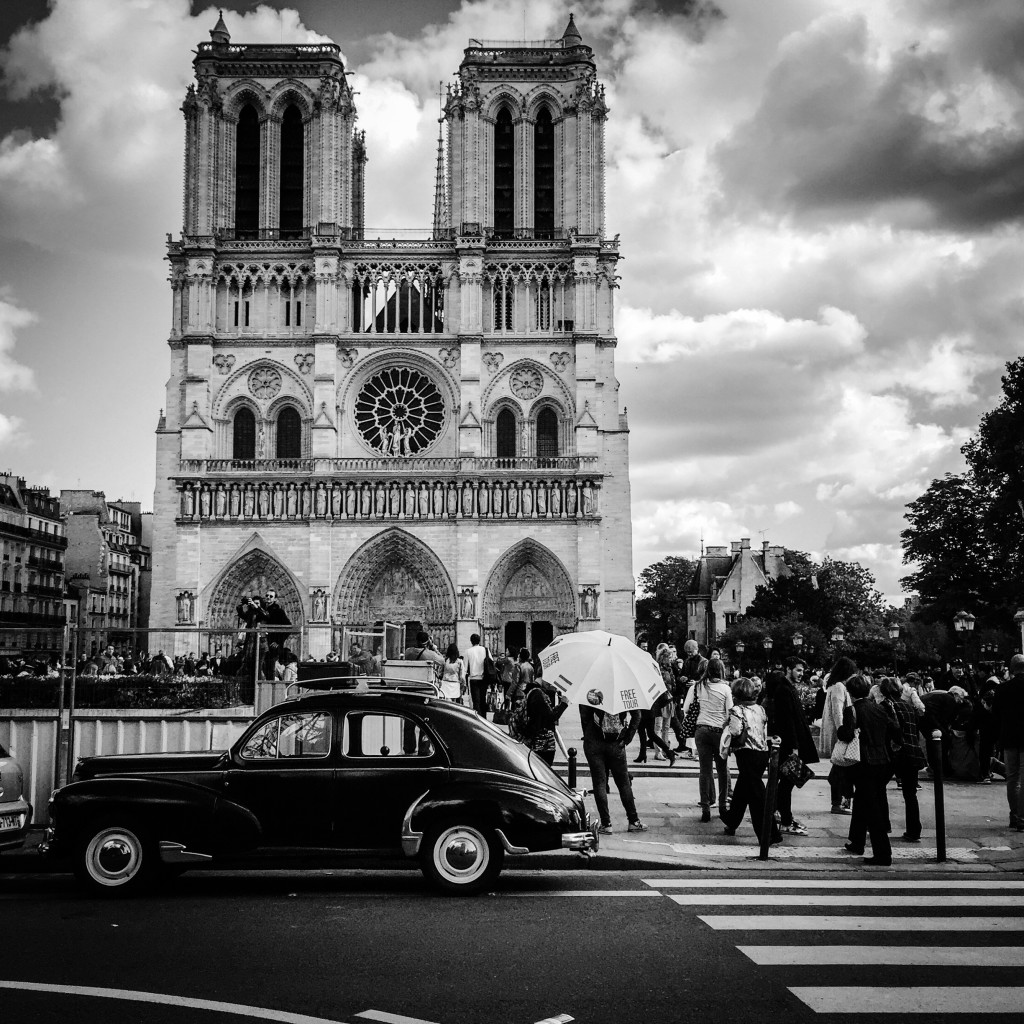 Because every great trip needs its "pit," ours happened to be the visit to Château de Vincennes. This particular castle happens to be at the end of one of my main métro lines that I take home each night, and so I affectionately like to think that I'm heading in the direction of my château. Unfortunately, my château and its chapel were largely under-renovation, completely unfurnished, and quite small. Such is life.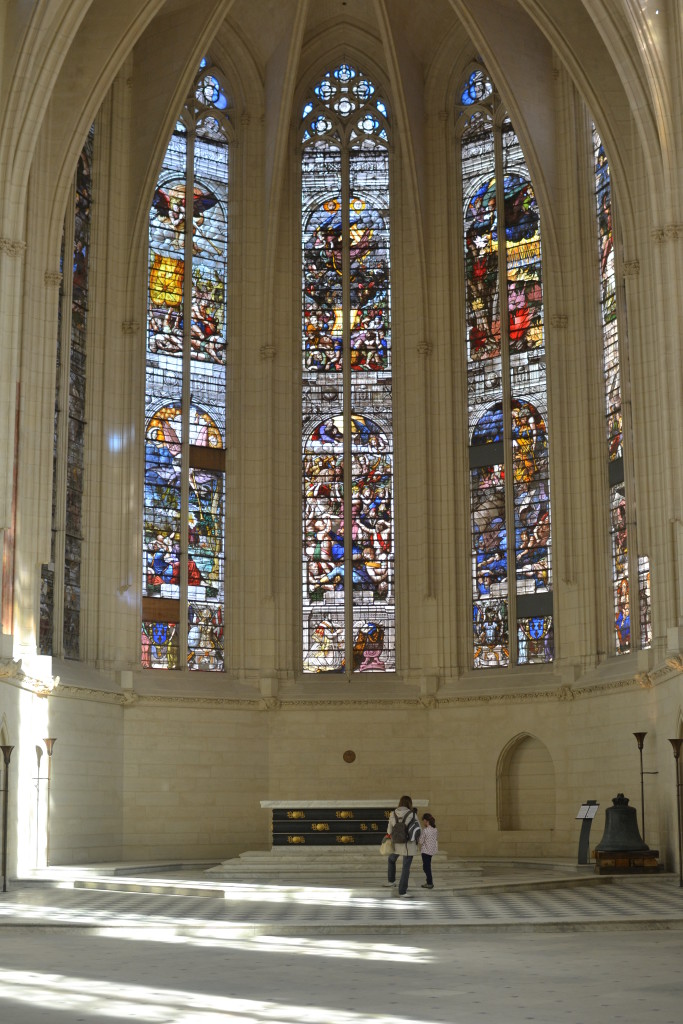 At least Mom was able to wave at her lowly subjects.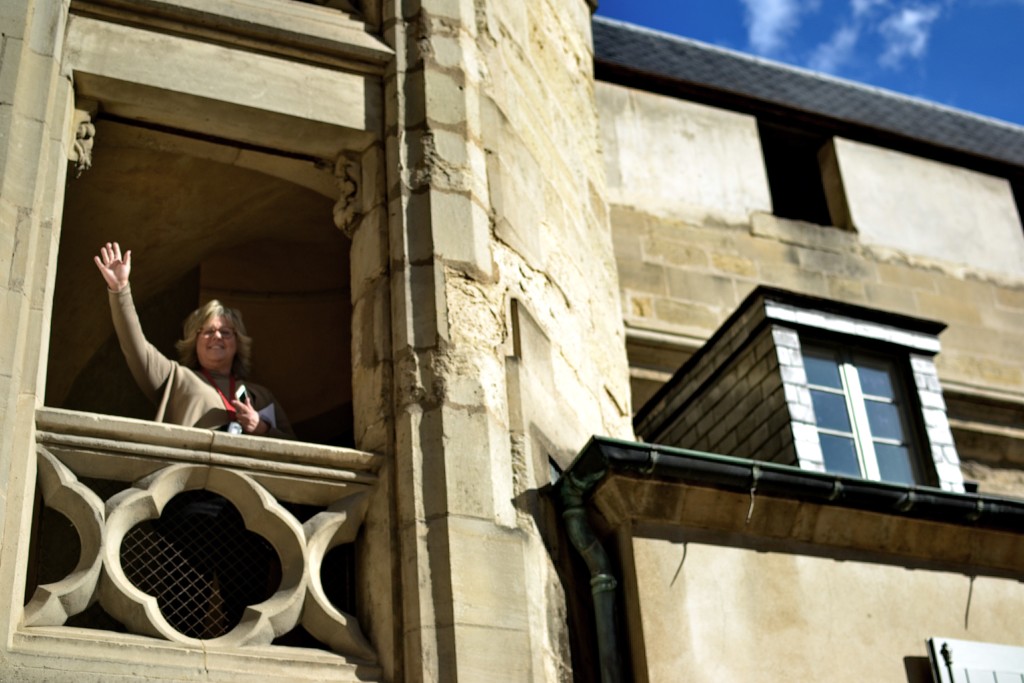 Upon leaving the château, there was a stunning image on either side of a large pillar captured in this panoramic. À gauche of the pillar, clear blue skies. À droite of the pillar, a brewing storm.

 Rooftops of Paris from the top of Galleries Lafayette.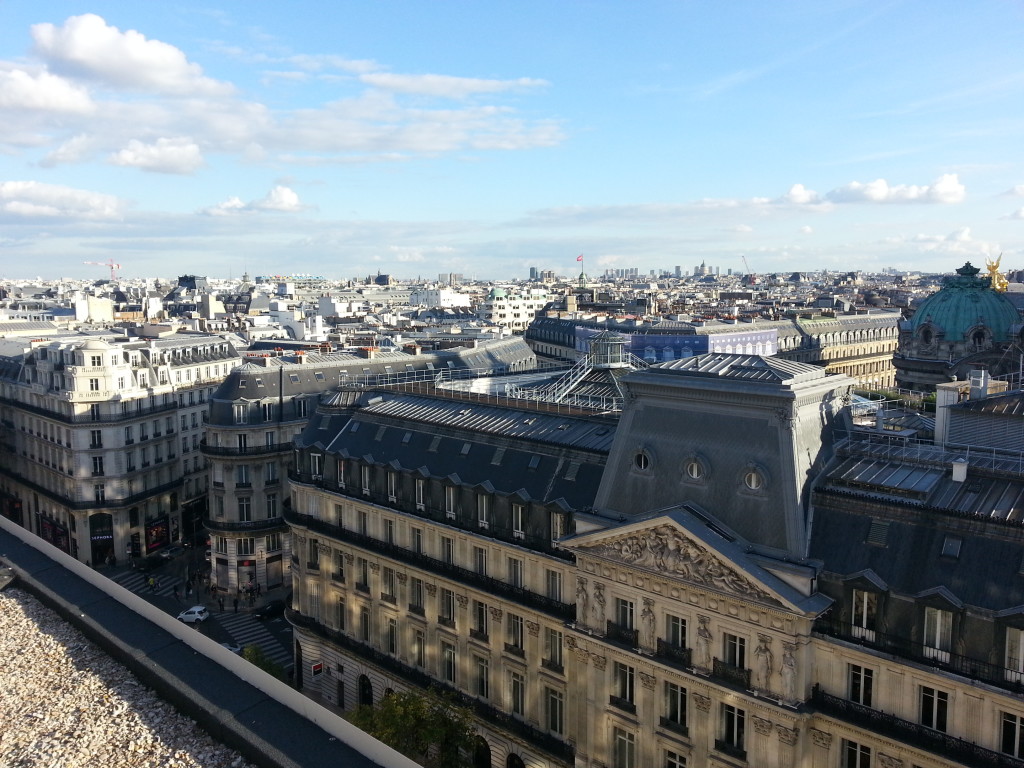 Photo credit: Dad
One final picture with La tour Eiffel and Opéra because it's Paris.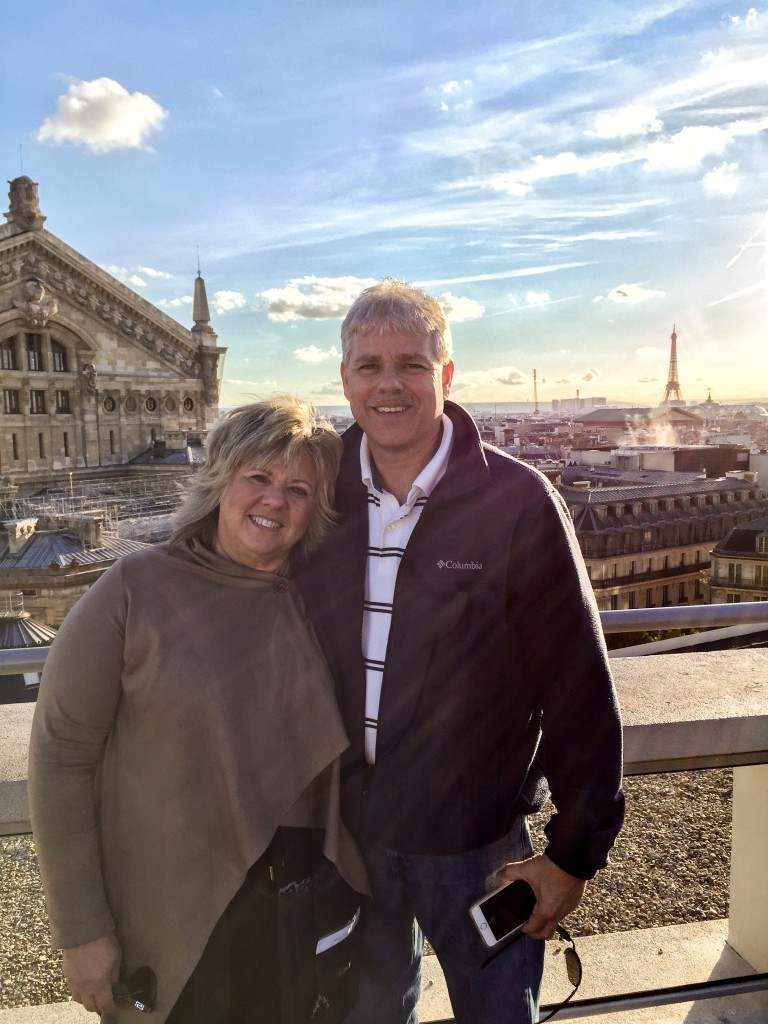 Le sixième jour
My heart nearly exploded when I walked into my courtyard after school and heard a whistle from above, only to see my parents standing in the windows camera in hand. If only I had taken a picture to capture that moment, but it was just to precious to pause.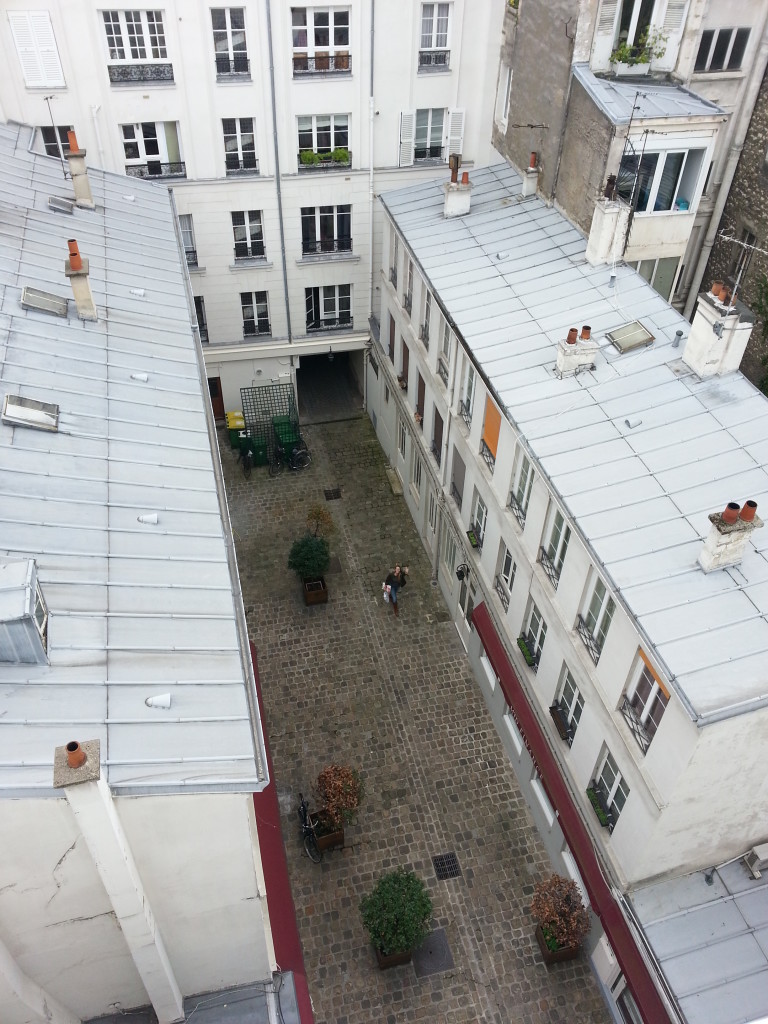 Photo credit: Dad
Next stop: Bayeux. While en route on the train, a little game of 3-13. Take note that Dad cheats and has been caught.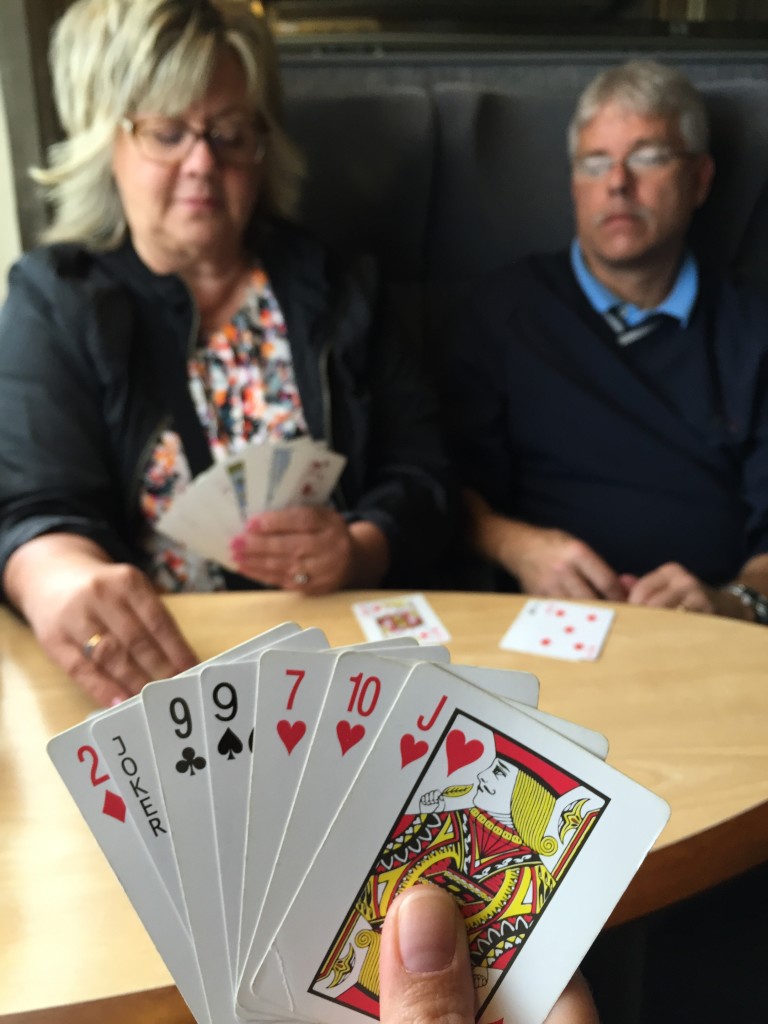 Cathédrale Notre-Dame de Bayeux is a spectacular cathedral, quite similar to Notre Dame in Paris. Started in the early 1300s, this cathédrale is considered to be of the Norman-Romanesque style.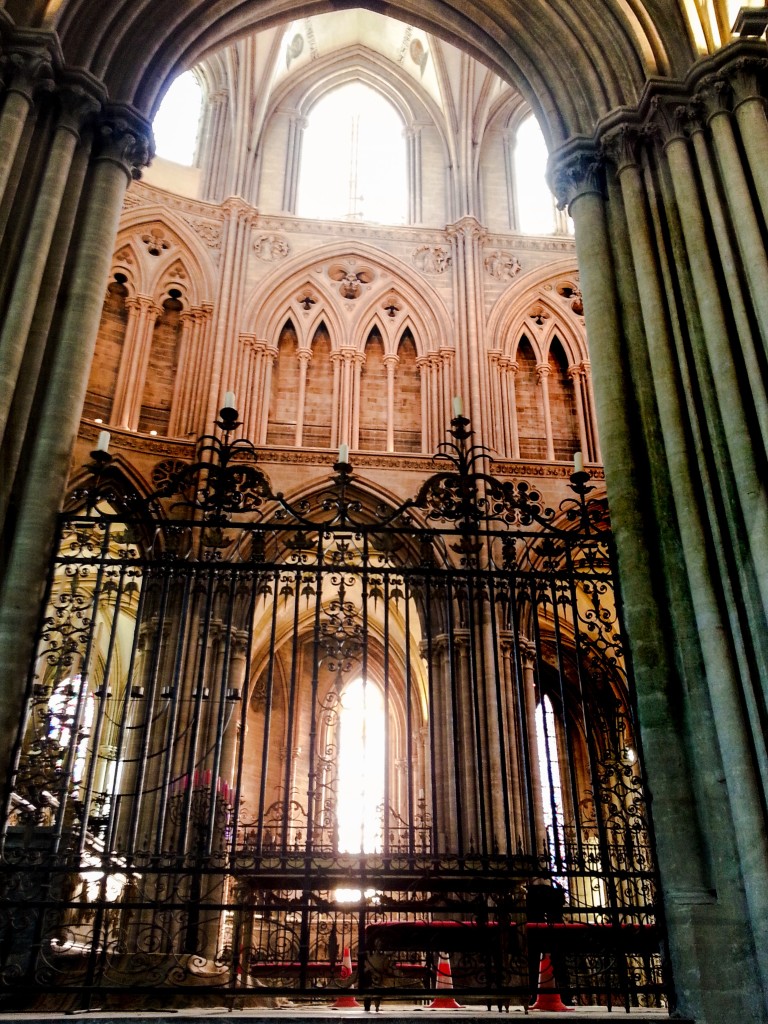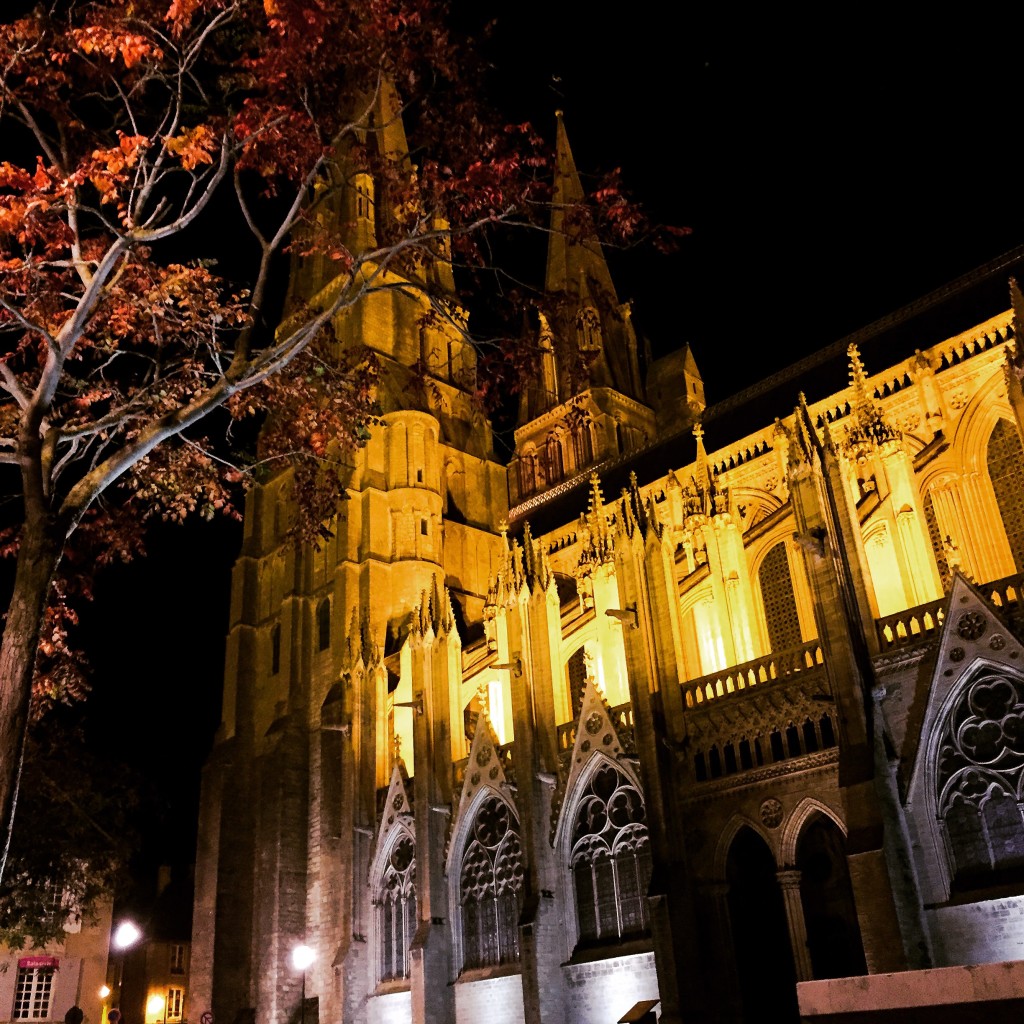 Le septième jour
Our D-Day tour in Normandy began with the German cemetery. It's a simple, yet incredibly haunting place for Nazi monsters and those forced to serve monsters alike. Clusters of crosses made from volcanic ash are scattered throughout to commemorate in mass the bodies lain beneath the soil. It is a struggle every year to financially maintain this piece of history. Even to this day, an onsite mortuary occasionally receives German remains for burial that have washed ashore or been discovered in a field some 70 years later.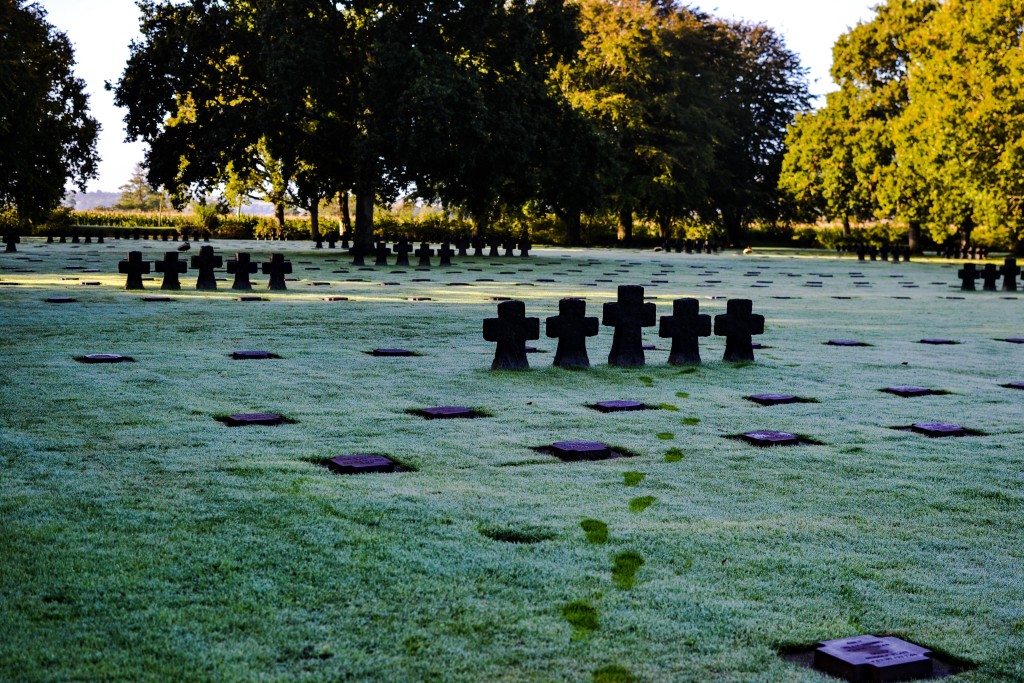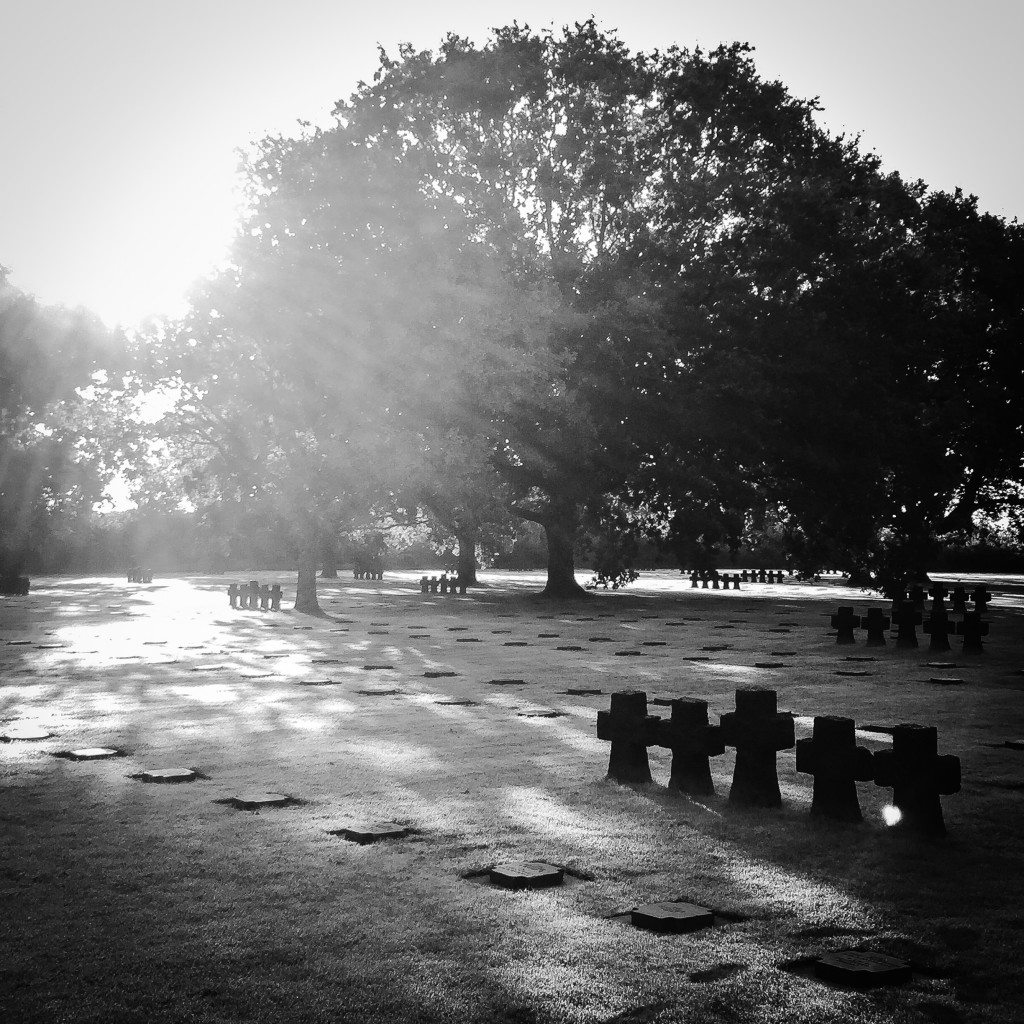 Sainte-Mère Eglise, the site of some horrific American parachute landings gone awry.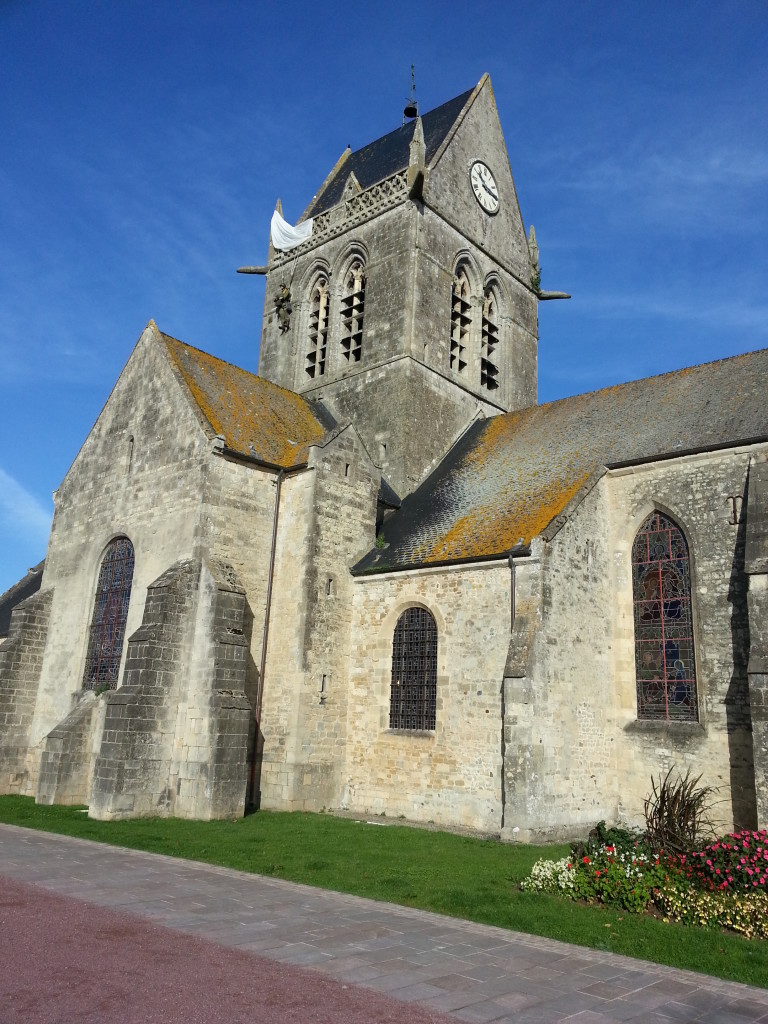 Photo credit: Dad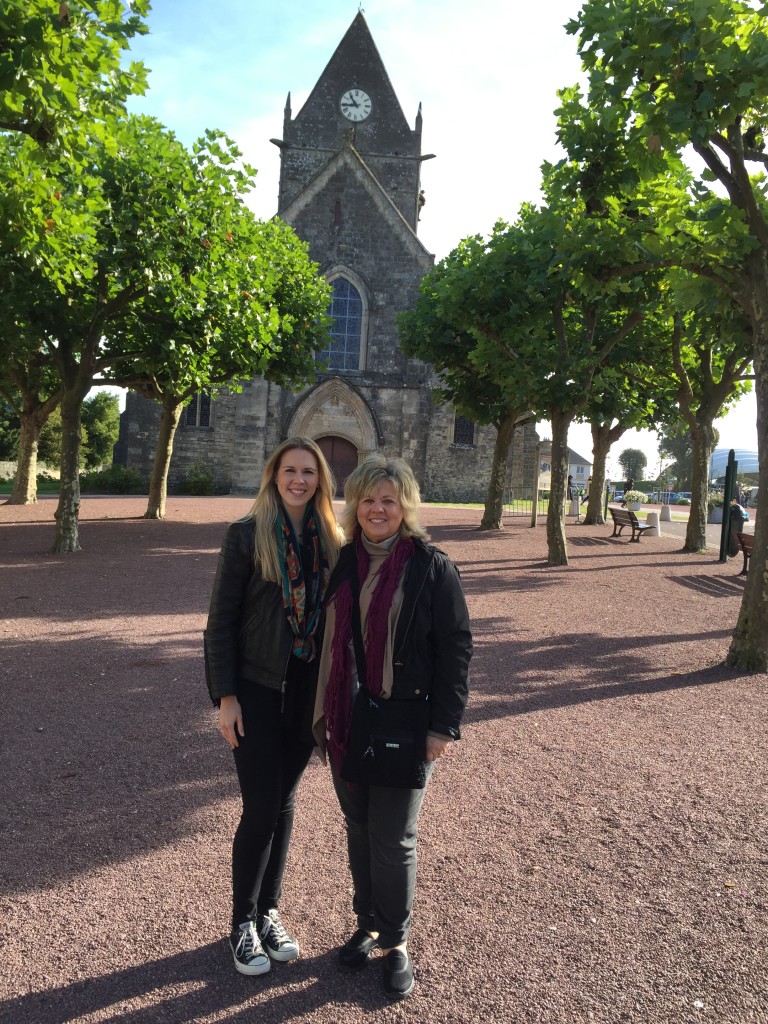 Photo credit: Dad
Bullet marking in a wrought iron fence across from the church.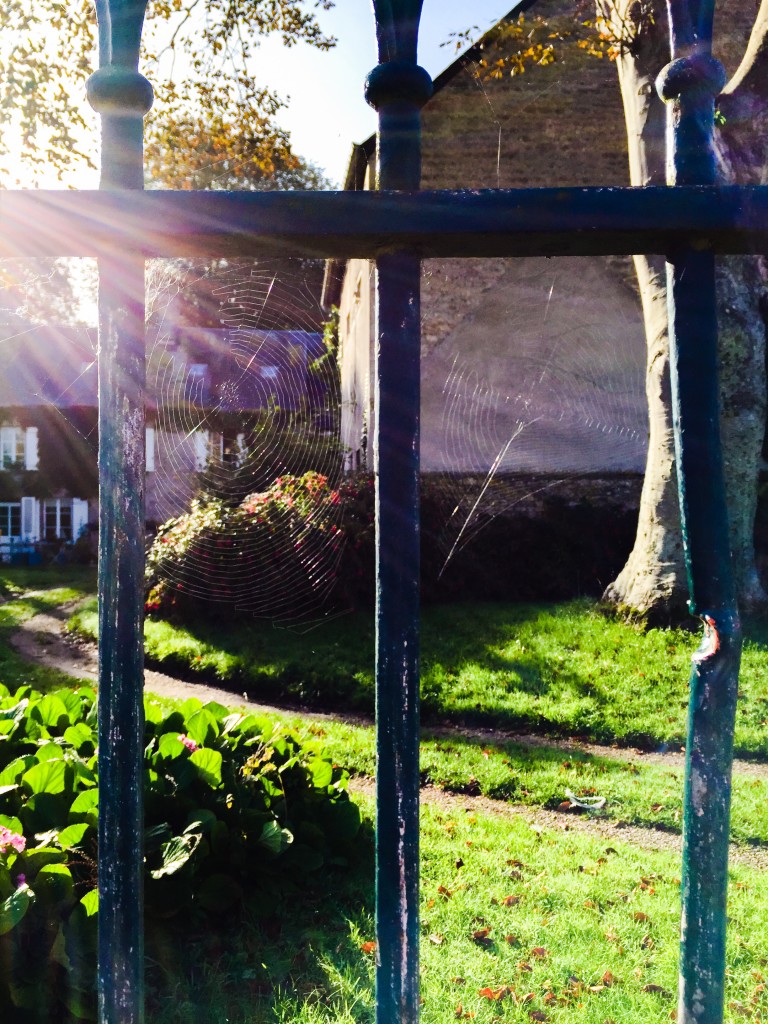 Utah Beach was the code name for one of the five sectors of the Allied invasion of German-occupied France in the Normandy landings on June 6, 1944. The low tide on the day of our visit was quite similar to that of D-Day. Exact casualties remains unknown to this day.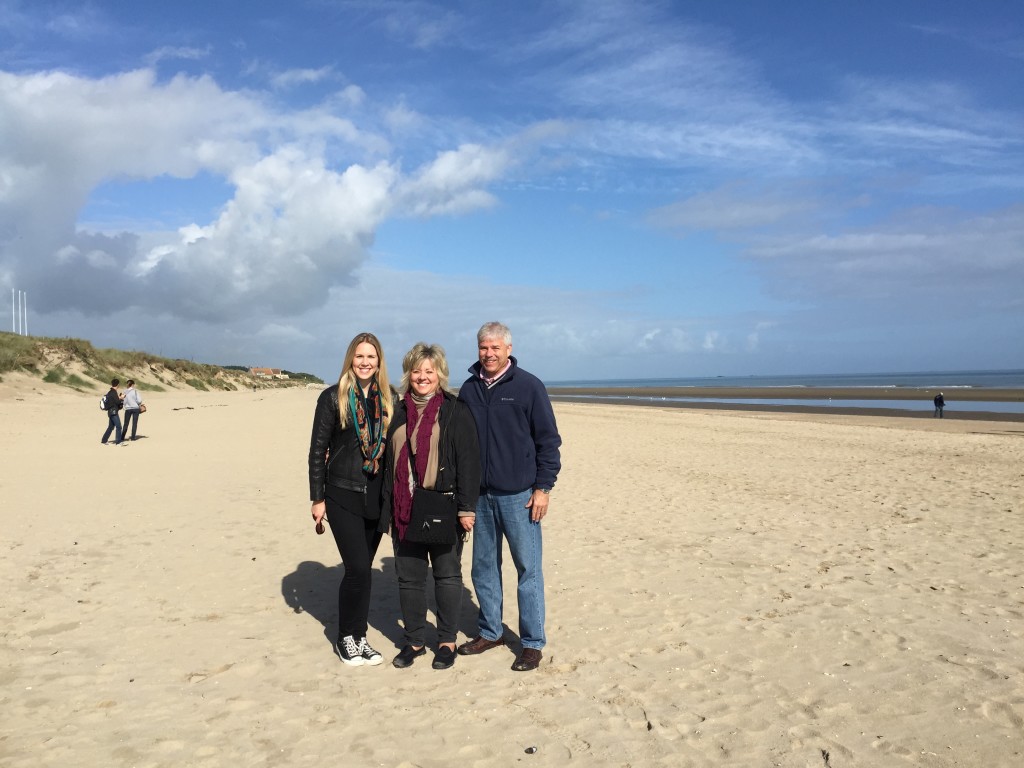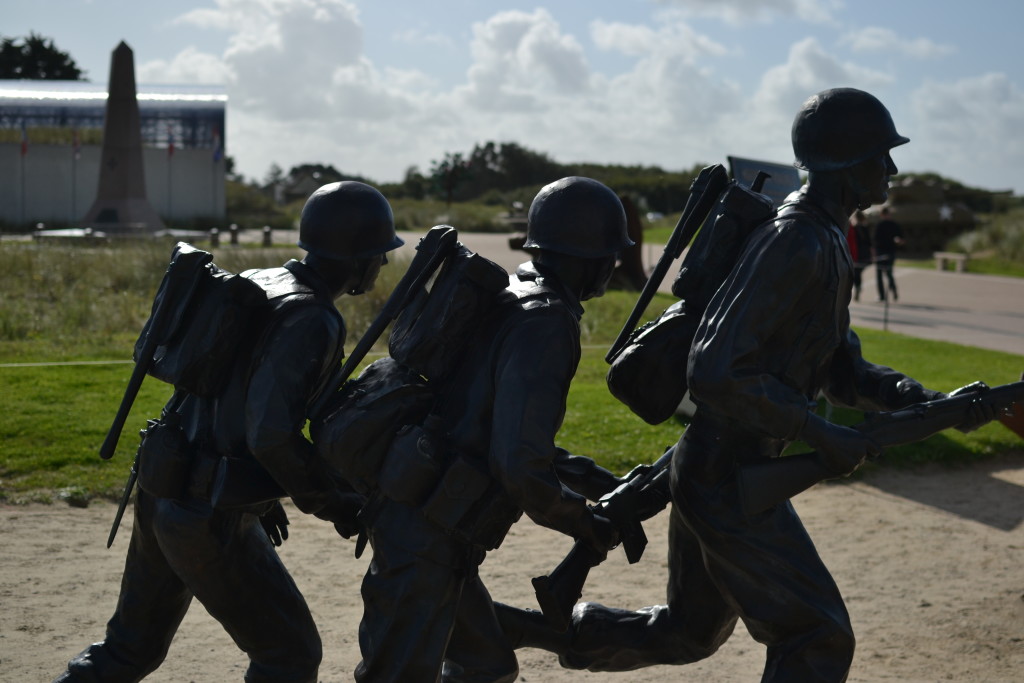 I desperately wanted to find a piece of history on the sand that day. Our guide told stories of finding American boots, helmets, guns, and bullet casings washing ashore to this very day. I saw several rubber looking things and started collecting them on my walk. Upon presenting my findings, the guide thanked me for cleaning the beach of the things fisherman leave behind and told me to toss my junk in the bushes before hopping in the car.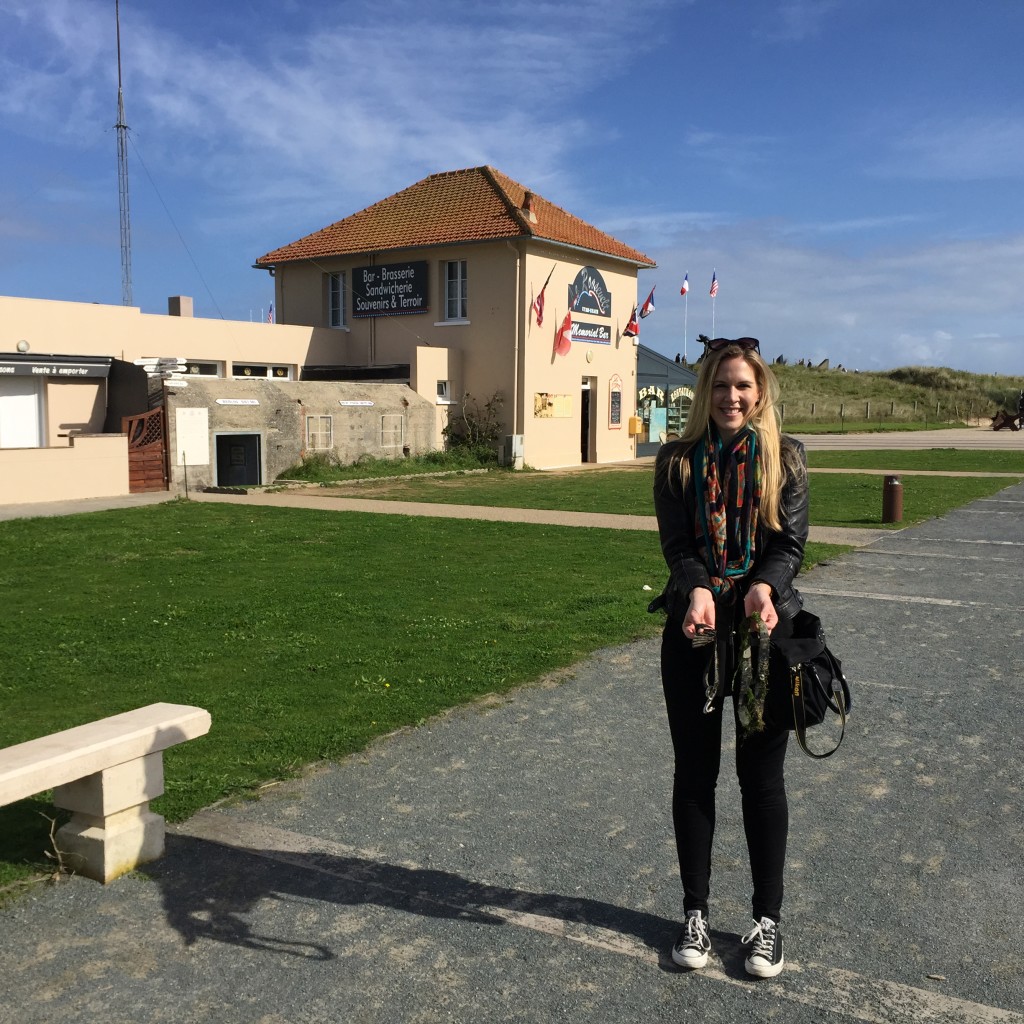 Pointe du Hoc is a magnificent site that the Germans mistook for being safe from Allied attack. By scaling the cliffs through muscle and sheer determination, the Allied forces overtook the under prepared Germans on June 6, 1944.


Craters like the one below pock the land throughout Pointe du Hoc. The sizes vary, as some were caused by bombs dropped from planes, like this one, other were caused by bombs launched from ships, and yet others were hand grenades.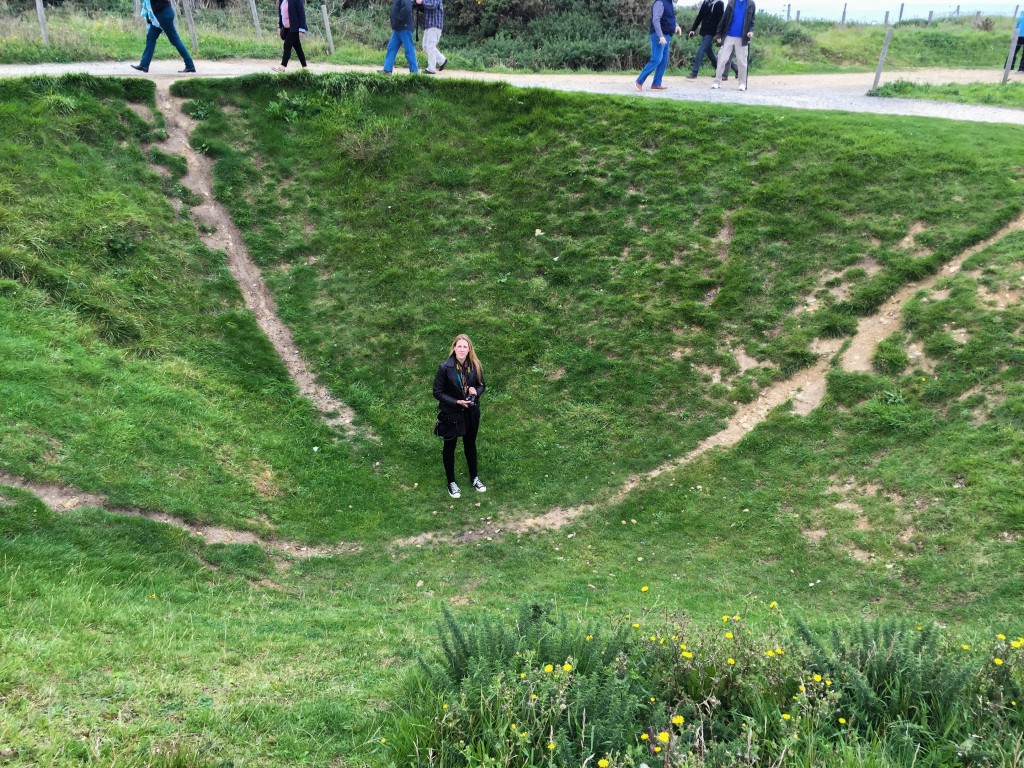 Photo credit: Mom
A peaceful moment to think about the chaos of history.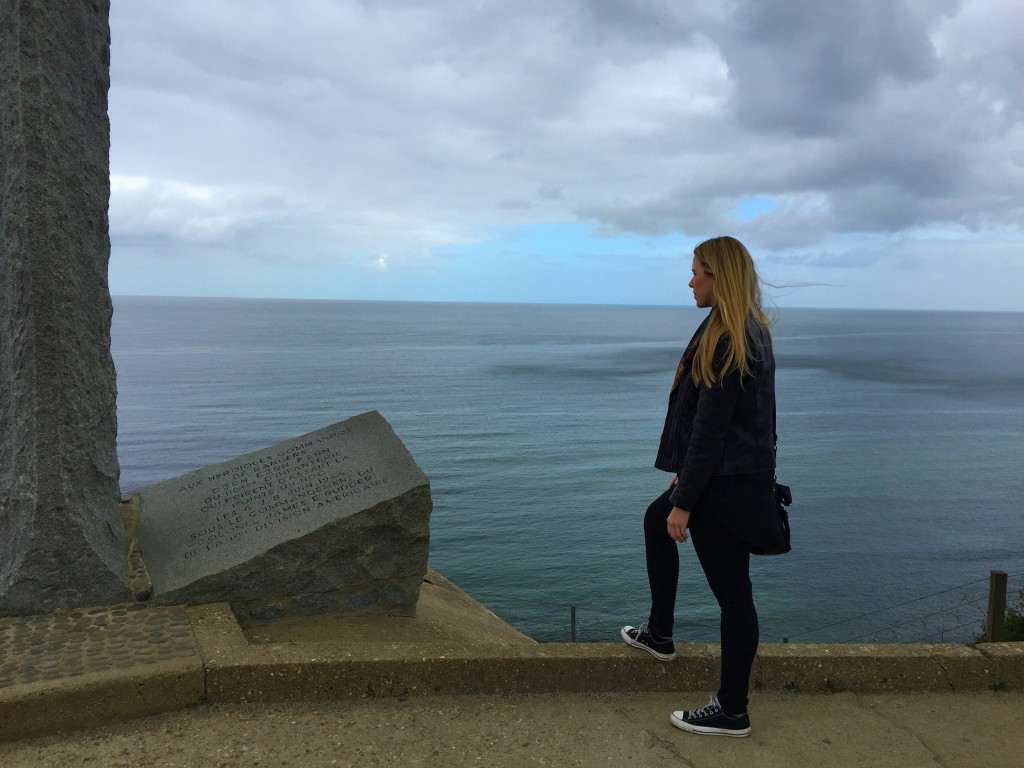 Photo credit: Mom
Omaha Beach was another code name for one of the five sectors of Allied force invasion on June 6, 1944. The low tide at this beach also reflected tide conditions early in the day on D-Day. By the end of the day, high-tides threatened to kill some men trapped against the sea wall and barely able to cover themselves from German crossfire. Again, exact casualties unknown to this day.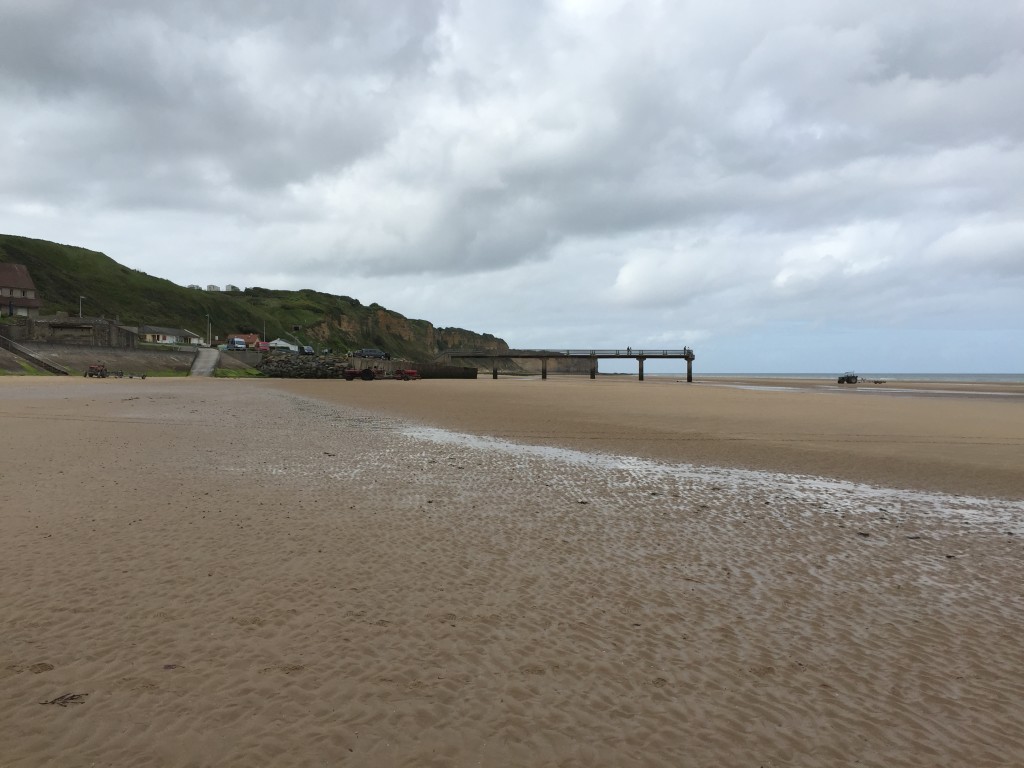 Photo credit: Mom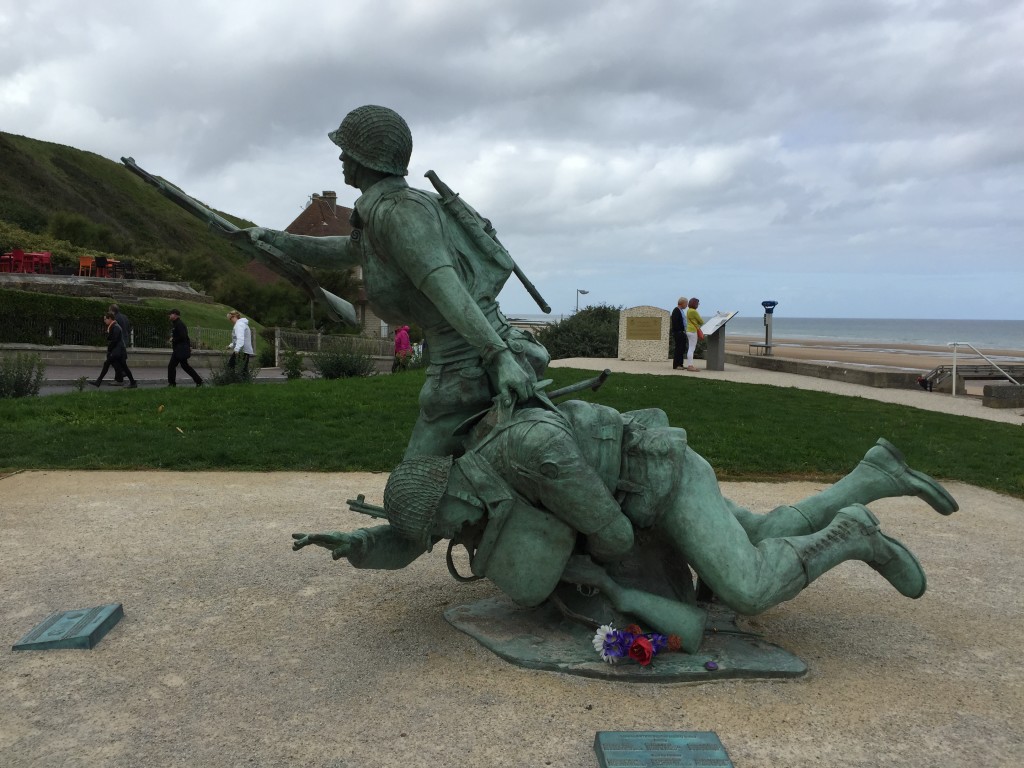 Photo credit: Mom
 The American cemetery in Normandy is a perfectly manicured piece of home for our fallen soldiers. Over 9,000 Americans are buried in this cemetery, which features plants and trees native to all parts of the United States in order to provide them a true sense of homecoming. Throughout the day, various patriotic songs and battle hymns are played as one ambles past cross after cross and the occasional Star of David. Two American flags fly until dusk when taps in played and they are ceremoniously lowered for the evening.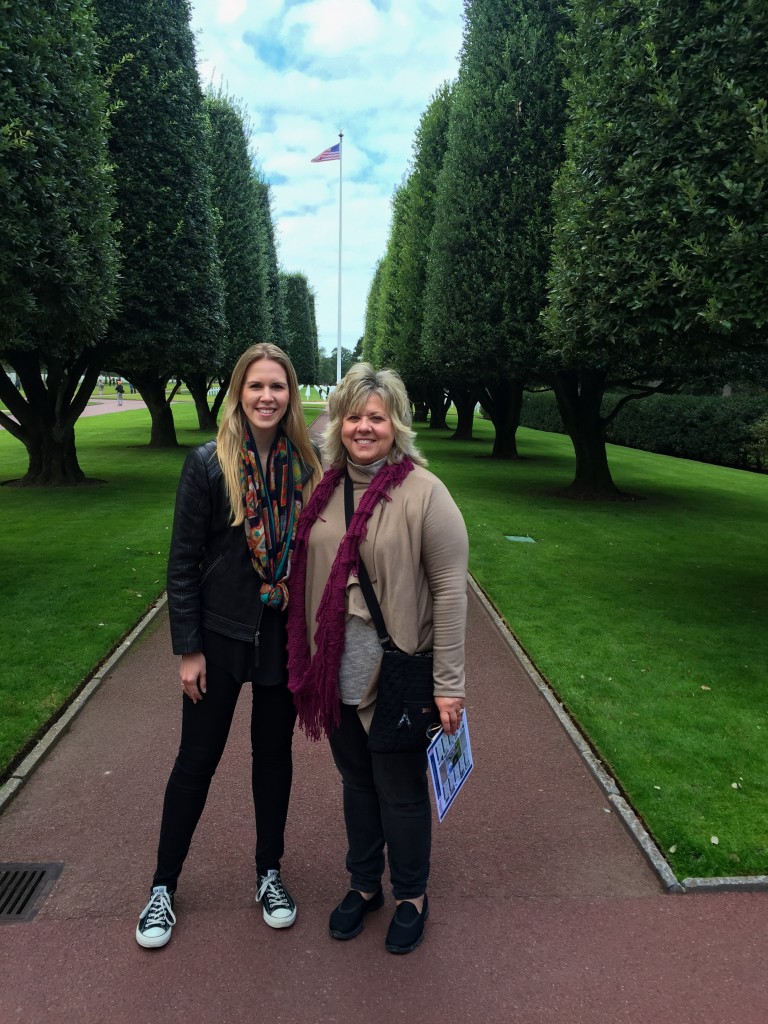 Photo credit: Dad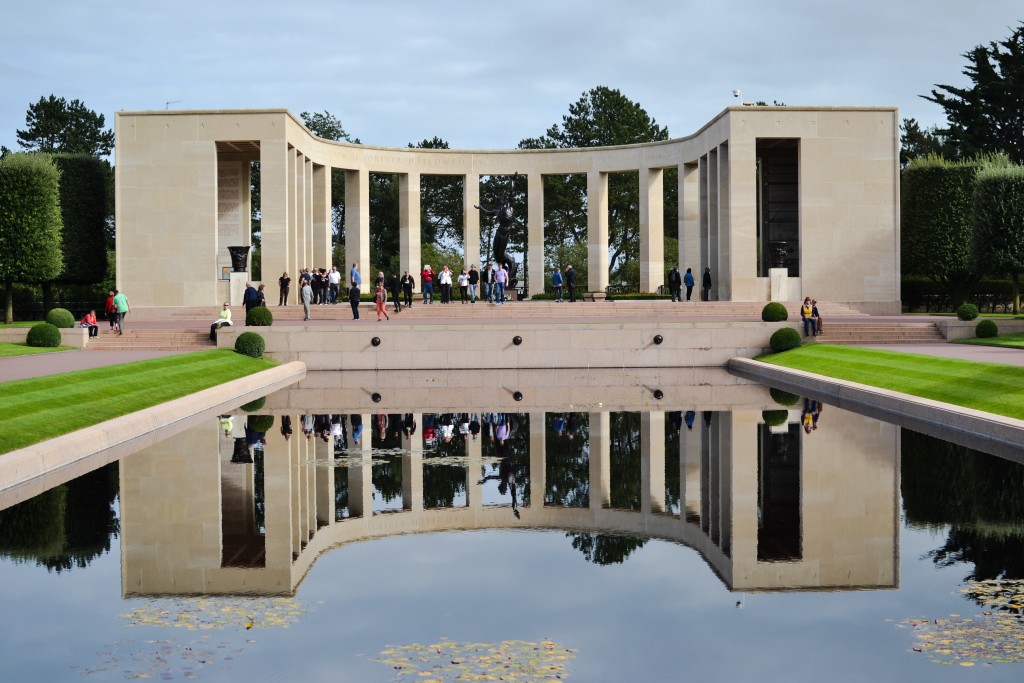 Names of the missing but never forgotten.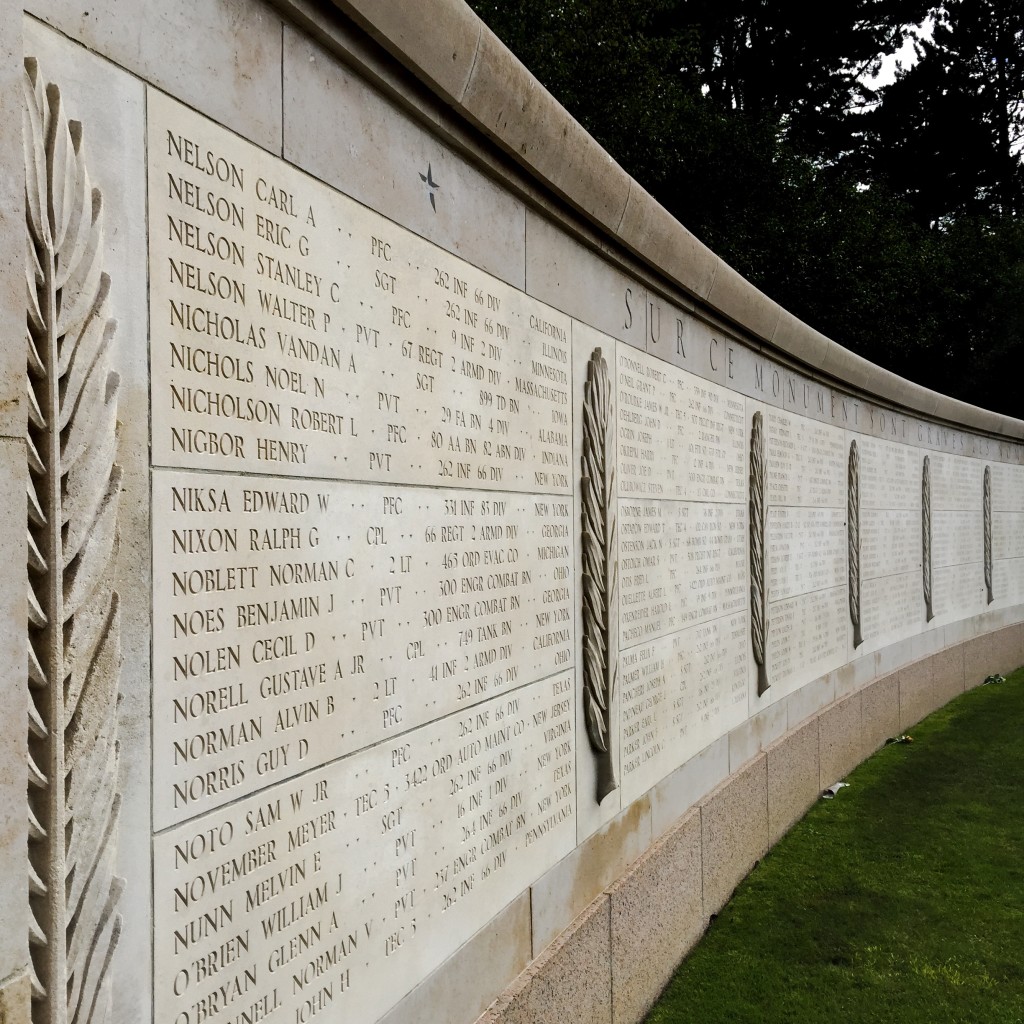 Le huitième jour
Our final stop before returning to Paris was Mont Saint-Michel. The abbey here is the highlight of the town and is only accessible as the tide allows.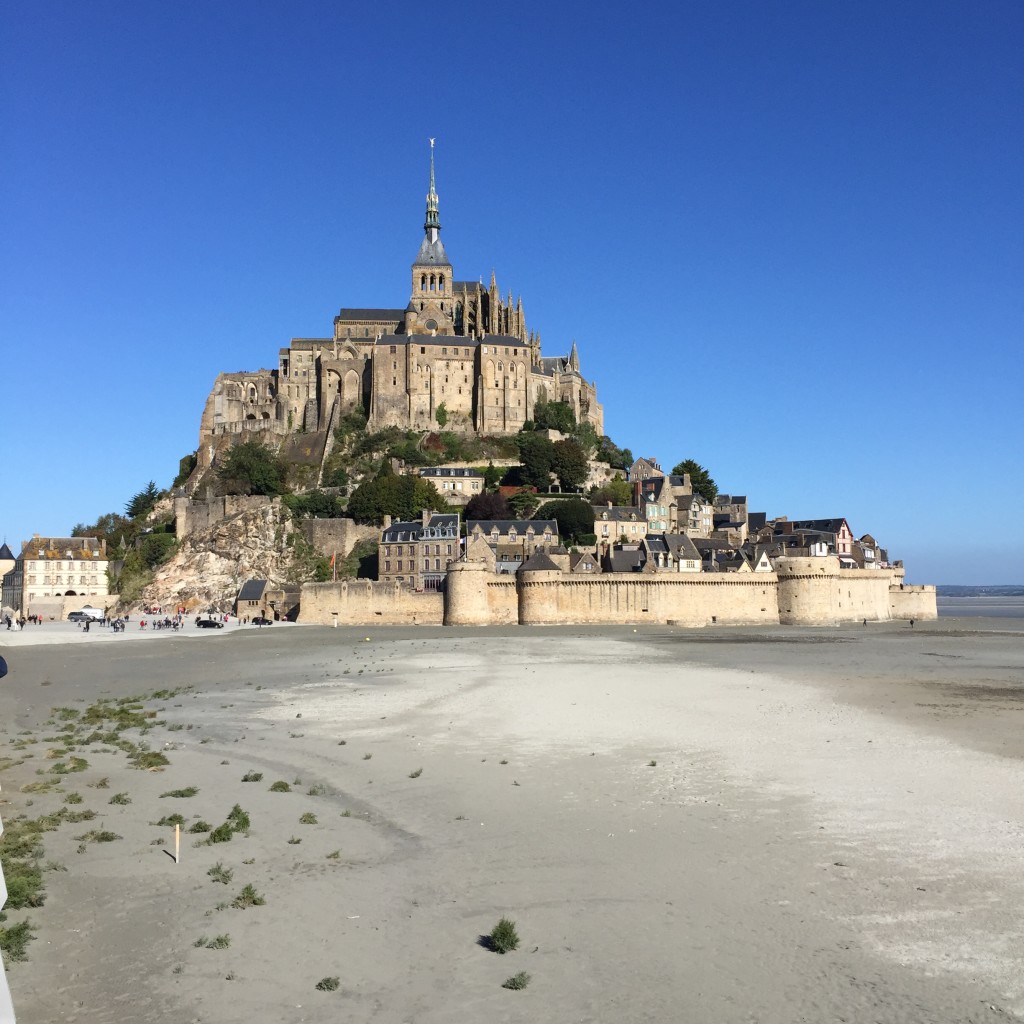 Dad being dad and blocking Mom's camera, on purpose!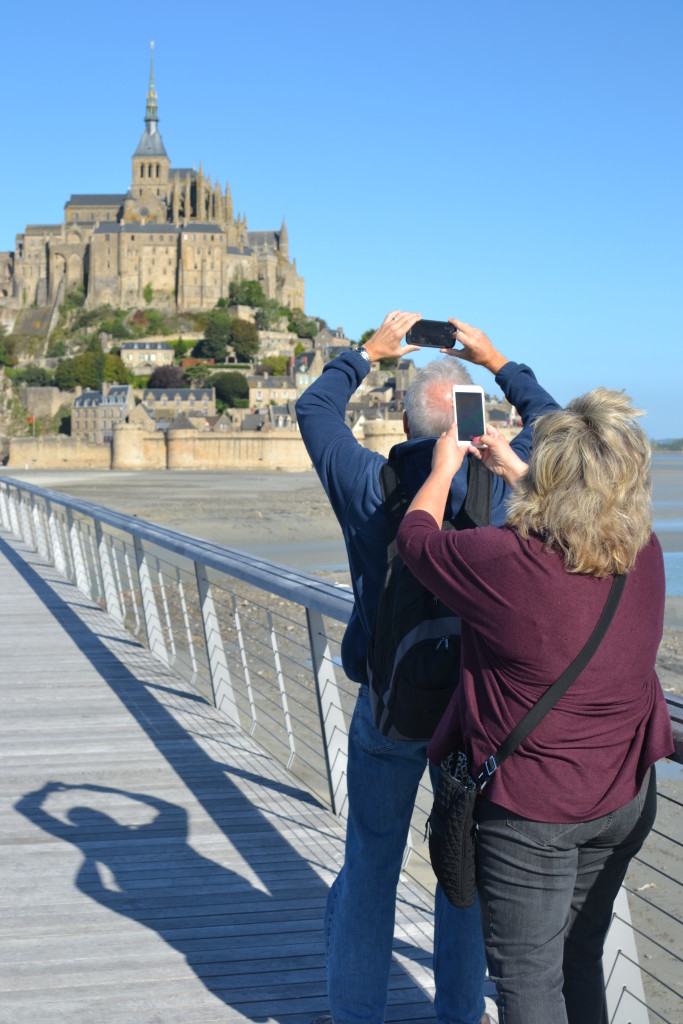 The winding streets to the top were only accessible by foot with vendors galore along the way!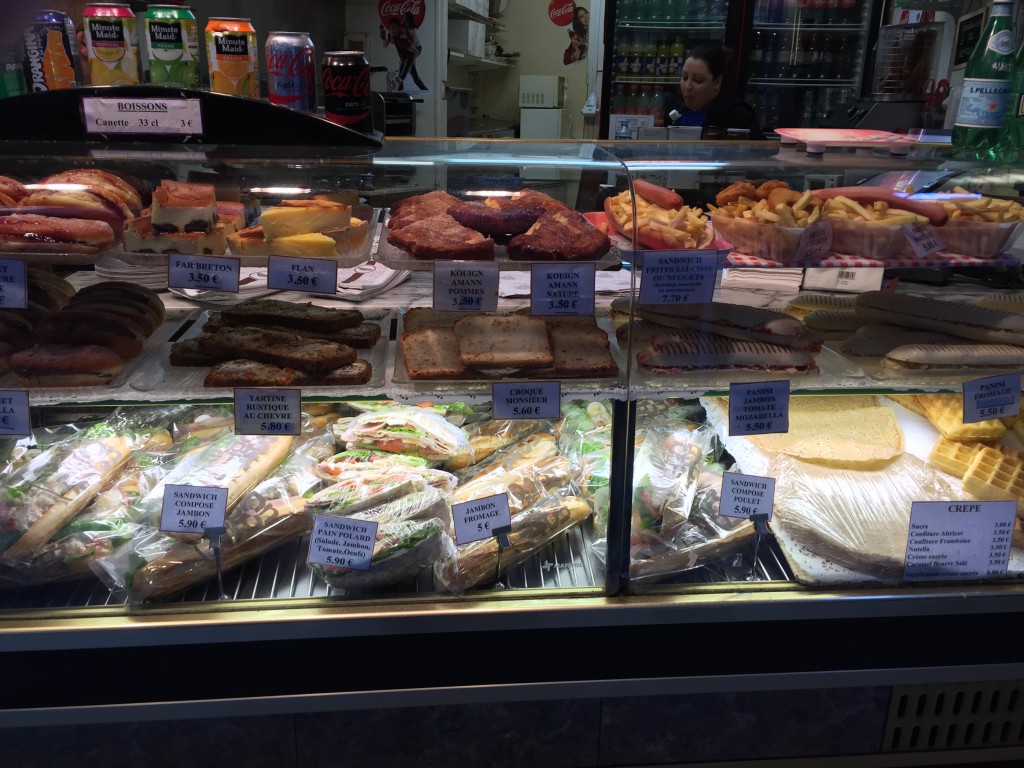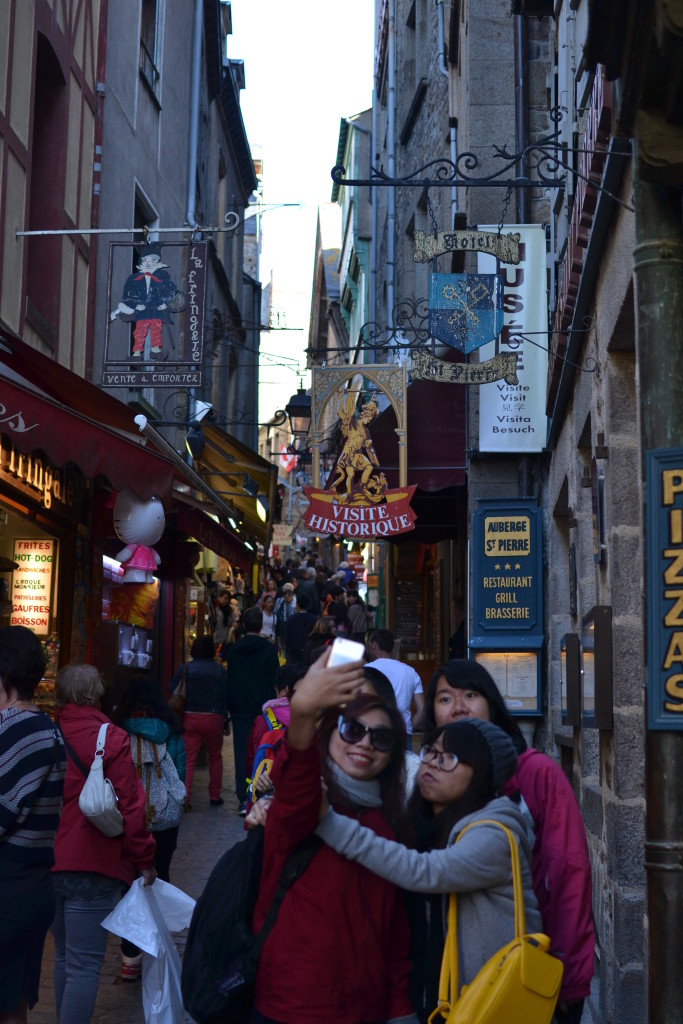 The abbey at the top has history dating back to the 5th century..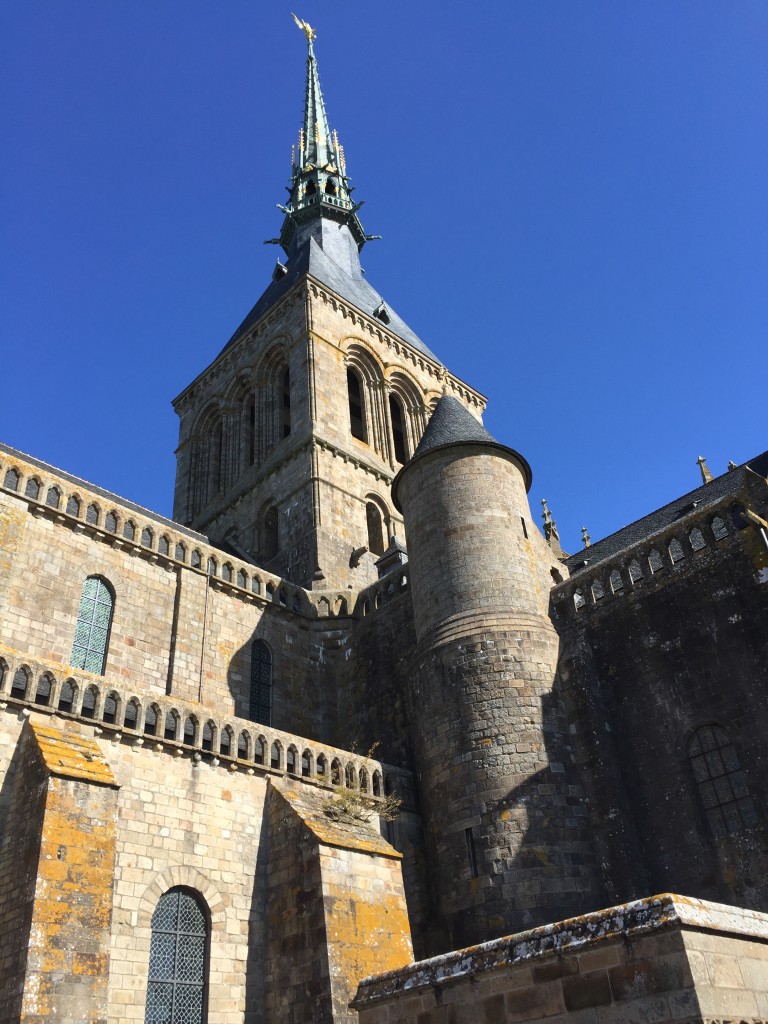 One last family picture in France…our baby blue eyes could barely handle the sunshine!